TE Connectivity Introduces High Density (HD) + Goldfinger Power Connectors
TE Connectivity (TE), a global leader in connectivity and sensing, today announced a high-density (HD) + gold finger power connector that is the highest current density gold finger power connector on the market, capable of supporting power supplies up to 3 kW. Power to meet the ever-evolving power needs of next-generation data centers. Extend the customer's power supply unit life with the largest current density gold finger power connector on the market.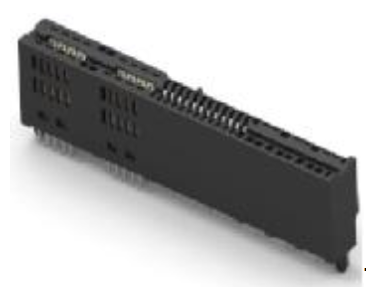 TE's high-density (HD) + gold finger power connector has a 1.27mm signal terminal spacing, a 5.08mm power terminal spacing, a power supply terminal current of 31A (average), and an operating voltage of 60V DC. Unique dual-layer power terminals and straight-through contact design enable multiple PCB mating/conducting contacts to ensure low contact resistance. DC power terminals can reach up to 1 mΩ, reduce connector temperature rise and reduce power loss, and use universal power and signal terminal modules for compact and cost-effective. Different terminal numbers and digits enable flexible configuration and better scalability (AC and DC, low power and high power).
As an authorized distributor of TE Connectivity, Heilind provides services and support to the market. In addition, Heilind also supplies products from many of the world's top manufacturers, covering 25 different component categories, and pays attention to all market segments and all customers. Constantly seeking a wide range of product offerings to cover all markets.
About Heilind Electronics:
Heilind Electronics was founded in 1974 and has a global headquarters in Boston, USA. It has established more than 40 branches in China, Hong Kong, Singapore, USA, Germany, Brazil, Canada and Mexico. Heilind supports original equipment manufacturers and contract manufacturers in various segments of the electronics industry, supplying products from the industry's top manufacturers, covering 25 different component categories, with a special focus on interconnect and electromechanical products. Its main distribution products include interconnects, relays, fans, switches, circuit protection and thermal management, bushings and wire harness products, crystals and oscillators, fasteners and hardware, sensors and more.
Heilind's operating philosophy is based on strong inventory, flexible policies, agile systems, extensive technical support and unparalleled customer service. In December 2012, Helian Electronics officially launched its Asia Pacific business. The headquarters of Helian Asia Pacific is located in Hong Kong, China. In addition to the sales department, it also has a regional distribution center and a value-added service center. So far, Helian Asia Pacific has been in Hong Kong, Shanghai, Beijing, Suzhou, Nanjing, Xi'an, Shenzhen and Dongguan. In Chengdu, Xiamen, Taipei, Singapore, Malaysia, India, Thailand, the Philippines, Vietnam, Indonesia and other places to open 21 branches and three warehouses (Hong Kong, Singapore and Suzhou), is committed to bringing the core value of distribution back to the industry.
About TE Connectivity
TE Connectivity (TE) is a global leader in technology and manufacturing with annual sales of $14 billion to create a safer, more sustainable, more efficient and interconnected future. For more than 75 years, TE's connectivity and sensing solutions have been proven in harsh environments, continuing to drive transportation, industrial applications, medical technology, energy, data communications and home development. TE has approximately 80,000 employees worldwide, more than 8,000 of whom are engineers and collaborate with customers in nearly 140 countries around the world.