Synopsys introduces the latest generation of embedded vision processors
Synopsys introduces the latest generation of embedded vision processors with deep neural network (DNN) accelerators to deliver industry-leading computing performance for artificial intelligence (AI)-intensive edge applications - 35 trillion operations per second Operation (TOPS).
Based on the ARCv2RISC instruction set architecture, the new DesignWare ARC EV7x vision processor features a 1, 2 or 4 core heterogeneous architecture with integrated vector DSP, vector FPU and neural network accelerators to enable intelligent car and consumer integration with AES encryption. application. The optional DNN Accelerator extends from 880MAC to 14,080MAC, enabling the system to deliver up to 35TOPS performance in 16nm FinFET process technology under typical conditions, from the previous generation ARC EV6x processing Four times the performance of the device.
Gordon Cooper, director of product marketing for EV processors at Synopsys, said that the EV7x processor is an optimized version of the EV6x processor, but not only adds 4 times the MAC, but adding MAC is just a simple way to enhance the performance of CNN (convolutional neural network) graphics. In part, the real key is to improve the memory bandwidth required for external memory accesses to minimize power consumption. The new processor handles bandwidth in a way that extends its computing power to 100 TOPS, enabling the use of lower cost DRAM interfaces.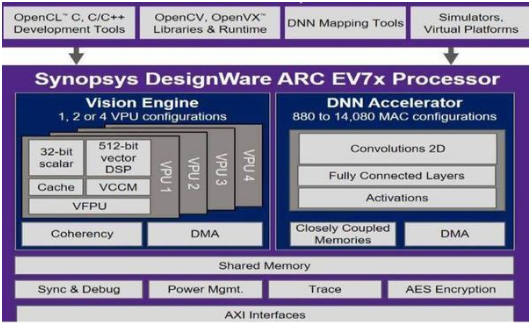 In addition, advanced image mapping tools are required to divide CNN graphics on the added MAC, and the EV7x processor has a 65% increase in frame throughput per second compared to the EV6x processor.
The heterogeneous multicore architecture of the DesignWare ARC EV7x vision processor includes up to four high-performance VPUs. Each EV7x VPU consists of a 32-bit scalar unit and a 512-bit wide vector DSP that can be configured for 8-bit, 16-bit or 32-bit operations for simultaneous multiply-accumulate on different data streams. Synopsys says the DNN accelerator uses a special architecture that provides faster access to memory, higher performance and better power than other neural network IPs. In addition to supporting CNN, the DNN Accelerator also supports batch LSTM (Long Term and Short Term Memory) for time series based applications, such as predicting the location of pedestrians based on observed paths and speeds.
In addition, the vision engine works in parallel with the DNN accelerator, making the EV7x particularly efficient for autonomous vehicles and ADAS applications, where multiple cameras and visual algorithms are required to run simultaneously. The new EV7x processor also places emphasis on security, and data transfer from chip memory to visual engine and DNN accelerator is protected by the optional AES-XTS encryption engine. The engine prevents training data sets and personal biometric data such as facial recognition and retinal scanning from being utilized.
The embedded ARC EV7x vision processor combines a high-performance vision engine with a DNN accelerator and programming tools for a wide range of vision applications.