STMicroelectronics Introduces New STSAFE Security Unit
ST's STSAFE-A110 security unit (SE) introduces new data security functions to protect data exchange security in an increasingly severe network security threat environment. Through strict anti-counterfeiting technology, it prevents genuine products from being counterfeited and protects the Internet of Things. (IoT) connected consumer products and industrial equipment.
STSAFE-A110 has the most advanced security protection functions certified by relevant standards, and provides users with the right to use the cloud certificate for secure loading. It can register IoT devices in large quantities and ensure that only authorized devices can access online services. This important security is personalized The process can be completed in a secure factory of STMicroelectronics. Customers who purchase more than 5,000 pieces per year do not charge additional fees, making the management of confidential data in the manufacturing process of IoT devices simpler and more secure.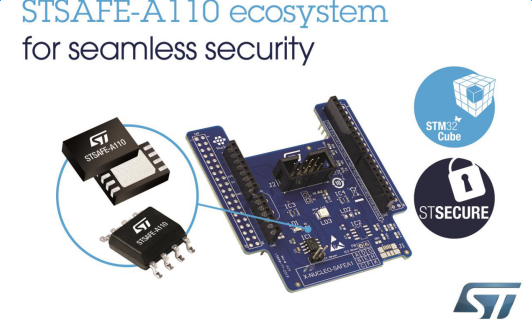 The chip is equipped with an embedded secure operating system and the hardware has passed Common Criteria Evaluation Assurance Level 5+ (EAL5 +) certification tests. Each chip has a unique device identification code and X.509 certificate, which makes it easy for the device to connect to the network or other devices securely.
In addition, ST's latest SE security module is integrated into the STM32Cube development ecosystem and can be quickly integrated into new STM32 design projects with device verification and secure connection requirements. The X-NUCLEO-SAFEA1 expansion board can speed up application development and support all STM32 Nucleo development boards, as well as the free X-CUBE-SAFEA1 and X-CUBE-SBSFU software packages.
Typical applications of STSAFE-A110 include brand protection of products such as consumables, accessories or power tool batteries, as well as authenticity verification of cloud-based IoT devices such as vending machines, farm tools or environmental sensors.
STSAFE-A110 is available in SO8N and DFN packages. Samples are available now, with mass production scheduled for the end of February 2020. In order to quickly and easily evaluate the chip functions, you can log in to the official website www.st.com to purchase pre-personalized universal samples and STM32 expansion boards directly from the eDistribution page.