NI introduces Test UE products
This R15-compliant 5G new air interface non-independent networking test system helps customers to provide 5G commercial wireless products to the market faster.
Austin, USA, May 13, 2019 - National Instruments (NI), a provider of platforming systems to help engineers and scientists meet the world's toughest engineering challenges, today announced a launch Real-time 5G New Air Port (NR) Test UE product. The NI Test UE product includes a non-independent networking (NSA) system that is fully compliant with the 3GPP R15 standard and emulates all operations of the terminal machine or user equipment (UE).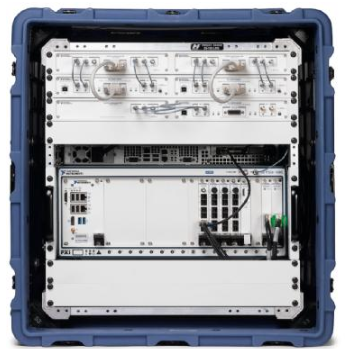 NI Test UE products for 5G NR
As the 5G commercialization process continues this year, engineers must verify the design and functionality of 5G NR facilities and equipment before they are commercialized and released. Based on the rugged PXI Express platform, NI Test UE products help customers test prototypes in the lab and in the field for evaluation in the service provider's network. In addition, the product is also suitable for performing Interoperability Device Testing (IoDT), a key part of the commercialization process to ensure that network devices are compatible with any user device provided by any vendor, and that the user device is compatible with any network. device. NI Test UE products also provide benchmarking capabilities to evaluate all features of commercial and commercial commercial microcells, small cell and macrocell 5G NR gNodeB devices.
Spirent works with NI to add 5G NR support to its existing products. "With the rise of 5G technology, we hope to find a cutting-edge 5G NR platform to help us stand out in today's market competition, and continue to maintain a competitive edge as the 5G market continues to mature," Spirent product development Senior Director Clarke Ryan said. "NI has been the leading supplier of SDR radio equipment since 2011 and is undoubtedly our first choice. NI provides us with the best testing capabilities of radio equipment to help us meet the changing needs of our customers."
NI Test UE products also provide a flexible system to evaluate 5G technology. Users can use the SDR front end to select bands below 6 GHz. The system scales to component carriers of 100MHz bandwidth and can be configured for up to 4x2 MIMO with a maximum throughput of 2.3 Gb/s. The 5G NR R15 software includes a complete protocol stack software that connects to 5G gNodeB devices while providing real-time diagnostic information. Users can log diagnostic information to disk for analysis and debugging after testing and can be viewed on the software front panel to view link performance in real time.
"5G commercial deployment is coming, mobile operators need to ensure that their infrastructure can support 5G in a visual, programmable, open and cost-effective manner," said Neeraj Patel, vice president and general manager of RadiSys Software and Services. "NI has adopted our first 5G software suite as the engine for its Test UE product. We offer a complete 5G source code solution for UE, gNB and 5GCN, which provides a way for customers to build 5G NR solutions. Subversive end-to-end support technology. By working with NI and Spirent to provide the market with an unprecedented 5G NR UE test solution, we hope to accelerate the commercialization of 5G and ultimately change the way the world connects and communicates. "