MOUSER launches Maxim MAX4002x high speed comparator
The Maxim MAX4002x high-speed comparators are available at MOUSER, and low propagation delays are favored by lidar and ToF applications.
Mouser Electronics, which specializes in the introduction of new products and provides massive inventory, is now stocking up Maxim Integrated's MAX4002x comparators. The MAX40025 and MAX40026 single-supply, high-speed comparators are high-speed, low-voltage differential signaling (LVDS) comparators with low propagation delay and are ideal for distance measurement, time-of-flight (ToF), and high-speed test and measurement instruments.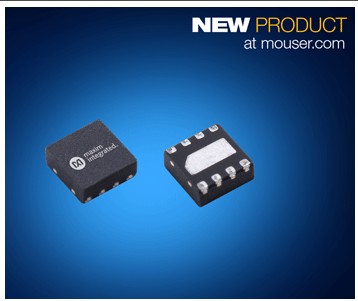 The Maxim MAX4002x family is a single-supply, high-speed comparator with a typical propagation delay of 280 ps and very low overdrive distortion of only 25ps (typ). With an input common-mode voltage range of 1.5 V to VDD+0.1 V, these devices are compatible with the output of many widely used high-speed transimpedance amplifiers such as the MAX40658. Both the MAX40025 and MAX40026 operate from 2.7 V to 3.6 V.
The MAX4002x devices feature an LVDS output stage that can be connected to most FPGAs and CPUs to help reduce power consumption and further optimize the system. In addition, the complementary output also suppresses common mode noise on the output line. The fully differential LVDS output of this family of devices provides high speed digital signals and reduces EMI to meet a variety of low noise, high performance design requirements compared to single-ended outputs.
The Maxim MAX40025 comparator is available in a space-saving, compact 1.218 mm × 0.818 mm WLP package, while the MAX40026 is available in an AEC-Q100 automotive grade 2 mm × 2 mm TDFN package. In addition, for development purposes, the company also offers the MAX40025EVKIT evaluation kit, which has a variety of layout options for engineers to modify the input.
The MAX4002x comparators are suitable for a variety of applications, including lidar, radar, sonar, ToF sensors, high-speed differential line receivers, high-speed triggering in oscilloscopes, and communications equipment.
MOUSER / Maxim MAX4002x Single Supply High Speed ​​Comparator
With the rich product line and intimate customer service, the company is actively introducing new technologies and new products to meet the needs of design engineers and procurement personnel. We stock a large number of new electronic components to support our customers' next-generation design projects. The Mouser website Mouser.cn not only has a variety of advanced search tools to help users quickly understand product inventory, but the website is constantly updated to continuously optimize the user experience. In addition, the Mouser website provides a wealth of information such as data sheets, vendor-specific reference designs, application notes, technical design information, and engineering tools for your reference.