MOUSER launches IEEE 802.15.4 Microchip SAM R30 Sub-GHz
Mouser's SAM R30 sub-GHz module is available for immediate shipment from worldwide electronic components licensing, which is focused on the introduction of new products. As an industry-standard ultra-small IEEE 802.15.4 compliant module, the SAM R30 includes ultra-low-power microcontrollers and sub-GHZ radio technology in a 12.7 × 11 mm package for space-constrained designs such as home automation. Wireless networking sensors and controls in smart city and industrial applications extend battery life.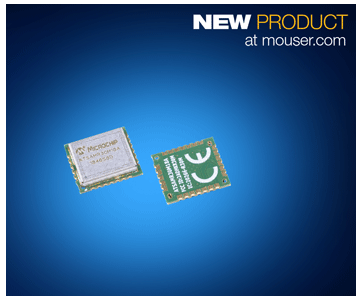 The Microchip SAM R30 module from Mouser Electronics is available in a Microchip SAMR30E18A system-in-package (SiP) with a 32-bit Arm® Cortex®-M0+ core, up to 256 KB of flash and 40 KB of RAM. Designed for unlicensed sub-1GHz bands - such as 780 MHz (China), 868 MHz (Europe) and 915 MHz (North America), the receiver (RX) sensitivity is up to -105 dBm and the transmit (TX) output power is up to +8.7 dBm.
This module provides twice the connection coverage and better wall and floor communication capabilities than similar devices using the 2.4 GHz band. With an ultra-low power sleep mode of less than 800 nA, the SAM R30 module is ideal for Internet of Things (IoT) sensor applications that require long battery life. In addition, developers can use Microchip's MiWiTM stack to implement a proprietary point-to-point, star or self-healing mesh network.
The company also stocks the SAM R30M Xplained Pro evaluation kit, which includes an onboard embedded debugger, QTouch® buttons, two Xplained Pro expansion headers and embedded current measurement circuitry. The board features a chip antenna and an SMA connector for the external antenna, a digital temperature sensor and a USB-UART/I2C converter. This board is powered by the Atmel Studio integrated development platform, which provides pre-defined application examples.
Both the SAM R30 module and the SAM R30M Xplained Pro evaluation kit are certified by the Federal Communications Commission (FCC), Industry Canada (IC), and Radio Equipment Directive (RED), allowing designers to focus on time-to-market without having to consider RF testing Certification cost.