Microchip's new EERAM memory solution
The new series of products introduced the SPI interface EERAM products for the first time, the highest density can reach 1 Mb.
From smart meters to production lines, applications that need to perform repetitive task data recording must be able to automatically recover content in the event of a power outage during processing. On a per-bit storage unit price basis, the low-density (64 Kb to 1Mb) non-volatile serial RAM (NVRAM) solutions currently used for these data records are often the most costly end products. Microchip Technology Inc. (USA) today announced the launch of a new series of Serial Peripheral Interface (SPI) EERAM memory products, which can save system designers up to 25% compared to current serial NVRAM products. cost. The new series adds four reliable SPI densities ranging from 64 Kb to 1 Mb to Microchip's EERAM product lineup.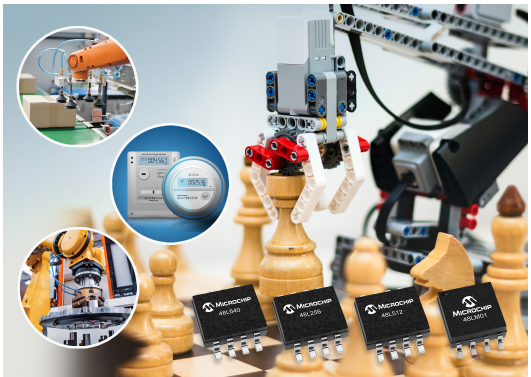 EERAM is an independent non-volatile RAM memory that uses the same SPI and I2C protocols as serial SRAM, allowing the device to retain the SRAM contents during power down without the need for an external battery. The user can hardly see all the non-volatile parts of the device. When the device detects that the power supply is depleted, it will automatically transfer the SRAM data to the non-volatile memory and move the data back to the SRAM when the power is restored. Take the production line as an example, a workstation handles up to millions of tasks throughout its life cycle, and losing data during a task can result in line maintenance or item scrap. EERAM automatically stores the SRAM content in these scenarios, so that the production line can resume from the task interruption.
The lower price of EERAM is due to the use of standard complementary metal oxide semiconductor (CMOS) and flash memory processes. Because these devices use the highest yields and the most widely used processes, they provide the industry's best reliability and lowest cost. Alternative solutions, such as ferroelectric RAM (FRAM), use special processes that are not only costly but also unstable in long-term supply. The new EERAM series features Microchip's customer-driven "elimination mode", which helps to ensure that customers are supplied within the time required.
"EERAM provides system designers with the reliable and cost-effective non-volatile RAM solution needed for their systems," said Randy Drwinga, vice president of Microchip's Memory Products Division. "We introduced our first 4 Kb and 16 Kb density products a few years ago. , Achieved a good market response. Our new series of products provide SPI interface for the first time, and expanded the density to 1 megabit, providing more choices to meet customers' system design needs. "