LG Electronics and KAIST set up 6G Research Center
LG Electronics and KAIST (Korean Academy of Science and Technology) will work together to develop a new generation of mobile communication technology following 5G.
LG Electronics announced on the 28th that the company and KAIST have set up the "LG Electronics 6IST Research Center" at the KAIST Institute (KI) in Rucheng, Daejeon, and held a ceremony.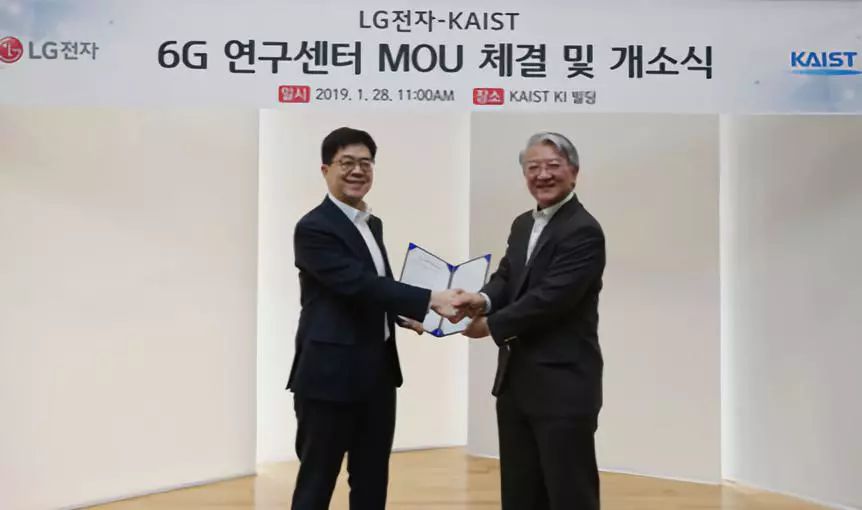 LG Electronics CTO Park ilpyong and KI Research Institute LeeSangyeop
LG Electronics said that it will rely on KI's research manpower and infrastructure to jointly carry out a variety of production and learning topics, and preemptively occupy the 6G next-generation mobile communication infrastructure technology after 5G. The first director of the research center will be Professor Jo Dongho of KAIST Electric and Electronic Engineering.
Professor Jo said that "the development of original technology to start 6G mobile communication in a step-by-step manner is of great significance in improving the competitiveness of Korean mobile communication technology after 10 years and preparing for future industries."
Established in 2006, KI is committed to the development of a new growth engine for the Korean economy through the integration and research of various disciplines. The new generation of mobile communication development department has been selected as one of the "Top 100 National Research and Development Outstanding Achievements" for two consecutive years since 2016, and its competitiveness has been recognized. At the opening ceremony today, President of LG Electronics' Chief Technology Officer (CTO) Park ilPyung and Kim Byunghun, President of the New Generation Standards Institute, Park Heekyung, President of the Research Department, and Lee Sangyeop, President of KI, attended the event.
President Park stressed that "the 6G Research Center will be established as an opportunity to further strengthen the research of next-generation mobile communication technology and lead global standardization, so as to ensure opportunities for new business creation."
According to the US patent analysis agency TechIPM, LG Electronics' 4G standard patent department has occupied the number one position in the world for five consecutive years from 2012 to 2016. And the Cellular-V2X specification, which is the core technology of driverless cars, was first proposed in the world and standardized.
LG Electronics recently opened the "Water Science Research Institute" at the Changwon Plant and established the "Air Science Research Institute" in the R&D Park in Kazan, Seoul, and actively expanded its R&D investment to ensure next-generation technology. In the past year, we have established a food science research institute to improve the performance of refrigerators, induction cookers, etc., and to study the preservation, cooking, and fermentation technology of food.