Hyperstone Announces New SATA III SSD Controller Model X1
February 12, 2019, Konstanz, Germany - Today Hyperstone announces the introduction of the new SATA III SSD controller model X1. The X1 is designed to meet the needs of the industrial sector. Target applications include high-reliability SSDs, M.2 and U.2 modules, CFast and eSSD system package trays, and on-board controllers and flash memory chips.
Based on advanced hyMap technology based on the flash subpage conversion layer, the X1 achieves superior random write performance, minimal write amplification factor, and high endurance without the need for external DRAM devices. The new FlashXE (Endurance Expansion) technology features calibration, soft decoding error correction and error prevention mechanisms for a wide range of flash memory granules including SLC, pSLC, 3D MLC, 3D TLC and next-generation NAND flash.
Relying on the unique hyReliabilityTM high-reliability flash management mechanism to ensure the most demanding industrial-grade requirements, hyReliabilityTM technology features superior balanced wear management, read-write interference management, and state-of-the-art power down management. At the same time, advanced radiation protection and soft error protection including end-to-end data path protection, combined with SRAMECC and low alpha particle packaging, ensure stable operation under the most demanding conditions. The controller delivers speeds up to 550MB / s and provides detailed health monitoring data beyond the S.M.A.R.T. range while providing life estimating tools.
The X1 is Hyperstone's latest addition to its NAND flash controller product, enabling industrial customers to benefit from its most reliable and energy-efficient SSD solution. According to Sandro-Diego Wölfle, product manager at Hyperstone, powerful dual-core processors and end-to-end data path protection, FlashXE and advanced security features are critical to ensuring that today's 3D flash is stable on industrial systems. At the same time, the X1's power consumption is extremely low. Since the junction temperature of the silicon is designed to be 125 degrees Celsius, the X1 can be used at a temperature of 105 degrees Celsius.
The initial X1 is available in 144-ball TFBGA (10.4 x 10.4 x 1.1 mm) and 124-ball TFBGA (9 x 9 x 1.2 mm) packages for industrial temperature ranges (-40 to +85 C). Product leaflets for more detailed information on X1 can be downloaded from Hyperstone's website today.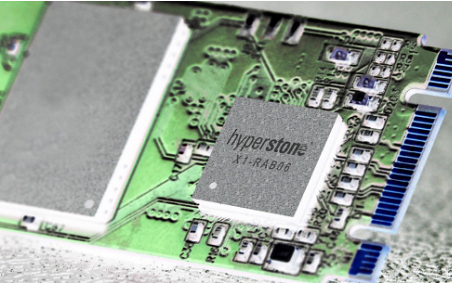 Hyperstone is:
Hyperstone is a fabless semiconductor design company based in Konstanz, Germany, specializing in developing world-class flash controllers for the industrial embedded market. Hyperstone's products set the standard for flash management with high reliability, and also support the application of NAND flash in key businesses. In terms of applications, the company's products cover a variety of host interfaces and performance features such as SATA, USB, CF/PATA, SD/microSD and eMMC. At the same time, we provide Flash controller firmware as an important complement to the controller product and customize the program for different Flash and applications. Hyperstone is a member of the CML Microsystems Plc Group, which is listed on the London Stock Exchange.