VCSEL is a key component of several super trends
VCSEL technology and equipment have been around for more than 20 years, and for the past 10 years, have been enjoying a stable market associated with data communications and low value-added optical inspection. Then suddenly, hey! In 2017, everything changed with VCSELs implementing face recognition and 3D awareness in the Apple iPhoneX.
A year later, almost every major OEM company (Millet, oppo, Vivo, and Huawei in the fourth quarter of 2018) followed Apple's footsteps. Today, face recognition (available in more than 10 mobile phones) is becoming a de facto feature of high-end mobile phones, especially biometrics that replace fingerprint sensors. Samsung is the only adherent, offering a new version of the fingerprint sensor with on-screen sensing, but time will tell us whether the Korean company will eventually follow other companies and pursue cutting-edge 3D perception.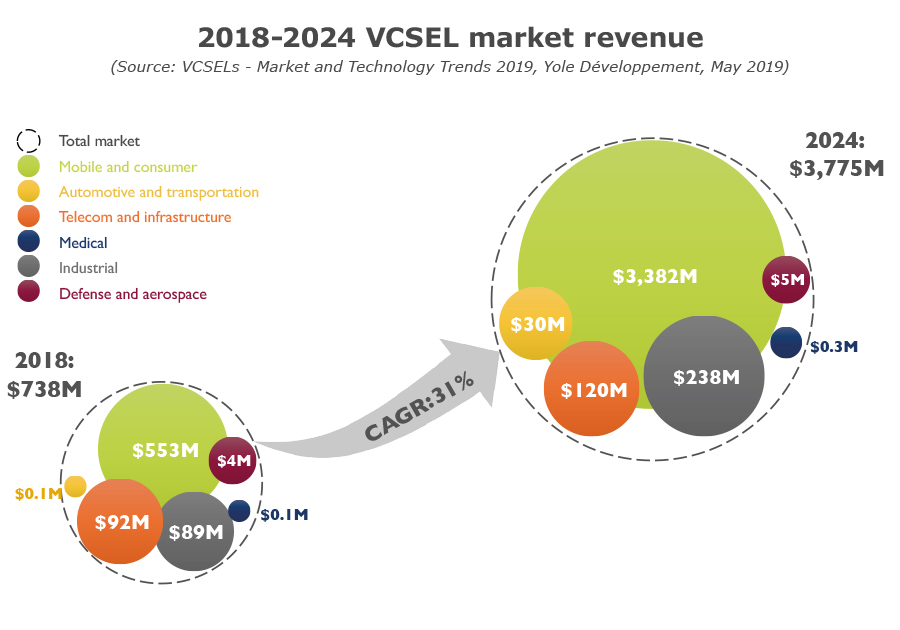 It is also worth noting that a late-time 3D camera based on the time-of-flight (ToF) principle has recently emerged, which is driven by the photographic application (the bokeh effect). Samsung and several Chinese handset manufacturers have decided to implement such features on high-end handsets, increasing the market for VCSELs and opening the way for more complex devices and different specifications for VCSELs themselves. In fact, today you can find mobile phones with up to four VCSEL devices: for proximity sensing, lighting, point projection and photography enhancement.
The total VCSEL value of each smartphone will not be multiplied by 4! According to a recent Yole report, this value is expected to stabilize as the use of VCSELs increases (proximity sensors, face recognition, and post-3D sensing). (Proximity sensor, face recognition and post 3D sensing). In addition, the cost of VCSELs is rapidly declining, and the company's learning curve in the VCSEL supply chain is short (substrate, surface and device manufacturing, and package integration).
The rapid decline in VCSEL manufacturing costs is not a magic, but an increase in experience and capital investment. The transition from the 4" to 6" process has begun to be implemented in multiple suppliers, reducing costs by 20% at the same process maturity level. In addition, the latest generation of MOCVD reactors is expected to achieve better yields, but only after a long period of learning and accumulation of VCSEL manufacturing technology is it possible to achieve this goal. This is obviously not a turnkey solution process: in order to have good equipment specifications, even years of accumulated experience, but also good output. This fact will be illustrated by the release of time to compete with Lumentum's equipment for AppleX's first devices to be delivered to Apple.
Apple's competitors have developed their own versions of the front-facing 3D sensing capabilities, using structured light principles with considerable accuracy. But now, some competitors are implementing other technologies: for example, LG uses a front-facing ToF camera for face recognition. This will definitely lead to higher precision and potentially simpler module architecture. Following the first win of the ToF design earlier this year, we also saw the emergence of ToF-based solutions that have been implemented by oppo, Huawei and Samsung. According to Yole's analysis, Samsung announced that the implementation of a new feature on the mid-range smartphone is carefully planned.
In addition to consumer applications, the industry (driven by LiDAR for robotic systems in industrial environments) is another very active sector that is driving a huge CAGR that is expected to expand nearly threefold in the next five years. The laser radar on the car will also be the application field of VCSEL, which is so in the long run.
By 2024, VCSELs will total $3.5 billion, a total increase of more than 30%.
In terms of M&A, there are several related acquisitions: EPIworks for II-VI, Princeton Optronics for AMS, Philips Photonics for Trumpf, and Vixar for OSRAM. More mergers and acquisitions may occur in the future, but in one area/application, namely medical/automotive/data communication, these mergers and acquisitions should be more specialized. In fact, most major VCSEL manufacturers have been acquired!
Another major investment is related to capital expenditures and factory expansion along the supply chain. Examples include IQE's new dedicated plant in Wales, ams' investment in its Singapore plant, Finisar's investment (supported by Apple), and green sector projects at Sanan Optoelectronics and other IDM/OEMs.
Since VCSEL is a key component of several super trends, the growth of VCSEL will continue!