TE Connectivity launches a new waterproof sealed 2.5mm double-lock signal connector
TE Connectivity (TE), a global leader in connectivity and sensors, announced the launch of a new waterproof and sealed 2.5mm double-lock signal connector. The new product provides IP67 waterproof and dustproof performance, and can protect applications exposed to harsh environments such as high humidity, water, dust and debris. TE 2.5mm waterproof sealed dual-lock signal connectors support free-hanging and panel mounting configurations, and provide flexible design options for a wide range of applications in the household appliances, lighting, personal health care and automotive markets.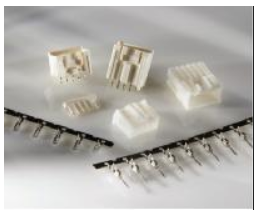 At present, the trend of miniaturization of smart devices in the industry is remarkable, the parts are smaller, and the design space reserved for the future is more limited. The center line diameter of the new waterproof sealed double-lock signal connector terminal is 2.5mm, which is ideal for miniaturized design. The connector series meets ergonomic features, including anti-winding latch design, split polarization anti-insertion terminal and optional TPA device to help simplify assembly.
The product can be inserted into 26-20 AWG wire with a maximum insulation diameter of 1.8 mm. The rated current of each line can be up to 3A. It meets the glow wire test (750 ° C, no flame) and UL 94 V-0 regulations. Global industry safety standards. Suitable for the following applications:
• Large household appliances: refrigerators, freezers, washing machines, clothes dryers, water heaters and cooker hoods and other kitchen appliances
• Small household appliances: water purifier, humidifier, rice cooker, etc.
• Garden tools: lawn mower, sprinkler system interface
• Lighting: outdoor and industrial lighting
• Personal health care: smart toilet
• Automotive: battery charger and power cord
TE product manager Blake Kenley said: "The new waterproof sealed double-lock signal connector provides an IP67-level high-performance waterproof and dustproof solution, and the compact design is suitable for space-limited designs. This product includes anti-winding lock design and polarized It is easy to assemble with anti-mating terminal and optional TPA device. It can be seen that if customers need to standardize the functions other than connectors, this new economical solution will be their ideal choice. "
As an authorized distributor of TE, Heilind can provide relevant services and support for the market. In addition, Heilind also supplies products from many of the world's top manufacturers, covering 25 different component categories, and attaches importance to all market segments and all customers. Continue to seek a wide range of product supply to cover all markets.