STMicroelectronics boosts STM32 microprocessor performance
STMicroelectronics (ST; New York Stock Exchange: STM), a leading global semiconductor supplier spanning multiple electronic applications, adds new authorized partners and software features to STM32MP1 system microprocessor (MPU) products , And significantly improved processing performance, increased clock speed to 800MHz, software pins are compatible with 650MHz products.
The new STM32MP1 MPUs are now equipped with 800MHz Arm® Cortex®-A7 dual-core application processor and 209MHz Cortex-M4 processor, with excellent voice and audio processing performance, and decoding quality reaching high-definition video level. Achieve more powerful AI (Artificial Intelligence) functions, and also bring a better user experience to the Android system. The new product integrates computing and 3D graphics accelerators, and has both energy-efficient real-time control and high integration.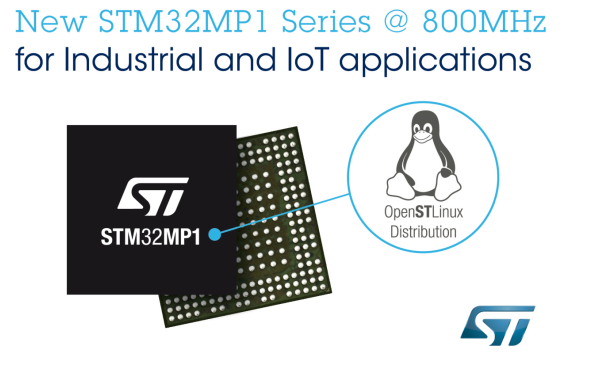 Petteri Holländer, senior vice president of Qt, said: "Our highly popular Qt HMI toolkit and its QML-based GUI application software can be deployed on the STM32 MCU and STM32MP1 platforms, which significantly reduces development costs and accelerates customer product delivery cycles. .ST and Qt's scalable tool suite can easily utilize the hardware resources of STM32MP1, especially 3D hardware GPU accelerators, to bring a smooth human-machine interface rendering solution for industrial / IoT applications. "
Utilizing the flexible architecture of STM32MP1, the new products enhance customer code security protection features, such as secure boot for authentication, one-time programmable fuses available to customers, and a secure operating system (OP-TEE: Trusted Execution Environment). A complete set of security tools such as a key generator signature tool, STM32CubeProgrammer, and hardware security module (STM32HSM) can securely enter customer encrypted data into the microprocessor.
As a mainline open source Linux operating system, OpenSTLinux Distribution has all the basic components needed to run software on the application processor core to help customers speed up the development cycle. Now it has added Android developer software packages and cloud computing support. STMicroelectronics continues to actively participate in the development of the Linux community and adhere to the mainline kernel strategy.
Bootlin CEO Michael Opdenacker said: "ST has actively participated in the Linux kernel community activities, which has impressed us. The simultaneous release of Linux and STM32MP1 will give this conference a higher degree of attention. We believe that ST knows customers Where is your interest, the mainline version supports open source projects, free upgrades to new versions, zero-cost security updates, development community support, and protection of long-term investments. Enjoying the same open source DNA, Bootlin is proud to be an ST authorized partner on this platform Provide engineering and training services to customers worldwide. "
In addition to powerful software tools such as STM32CubeMX and STM32CubeProgrammer, the STM32CubeIDE debugger can now also be used on the Cortex M-4 core.
The rapid increase in the number of authorized partners has greatly expanded the scope of customers' R & D capabilities and accelerated the STM32MP1 series MPU application development cycle. In addition to embedded software and software development tools, partners also contribute expertise in training and engineering services. STMicroelectronics has partnered with a number of module system vendors such as Phytec to meet customer needs for local technical support and system flexibility.
Yves Astein, Phytec Product Manager, said: "Continuously expanding the expanded STM32MP1 product family, as well as a large number of graphics processing functions and rich communication interfaces, provides industrial-grade peripherals for Phytec's phyCORE-STM32MP1 system module, making the module a human-machine interface And the best choice for various real-time interactive applications. This PhyCore system-level module and long-term maintenance service can reduce the complexity of any embedded design, and at the same time, the good relationship with the ST team enables us to deliver system modules on time, ensuring customer design security . "
STMicroelectronics is also working with system-level package manufacturer Octavo Systems to meet the design needs of space-constrained applications.
Greg Sheridan, vice president of strategy at Octavo Systems, said: We quickly realized that Octavo must develop a STM32MP1-based system-in-package that leverages ST 's long history of Cortex-M products to simplify the development and use of microprocessors. Our OSD32MP1 SiP integrates STM32MP1, STPMIC1, DDR3, oscillator and passive components in a 18mm x 18mm miniature package, making the microprocessor as easy to use as a microcontroller and leaving the designer without any rustiness. Combined with support from the ST Authorized Partner Program, OSD32MP1 SiP enables customers to quickly develop products on a powerful microprocessor. "