Silicon Labs Wireless Gecko Series 2 SoC is available at Mouser
Mouser Electronics, a global authorized distributor of electronic components focused on introducing new products, is now stocking Silicon Labs' new Wireless Gecko system-on-chip (SoC) series. This series of SoCs provide superior energy efficiency and battery life and are suitable for a variety of Internet of Things (IoT) applications.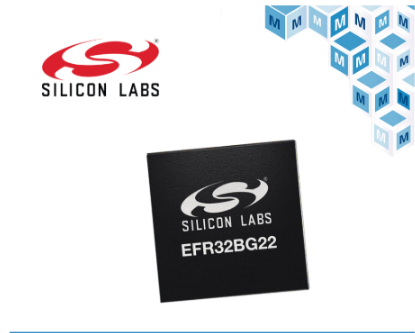 Silicon Labs EFR32BG22 (BG22) SoC is a single-chip solution that supports Bluetooth 5.2 connections including Bluetooth Mesh and Bluetooth Low Energy and has direction finding functions with sub-meter accuracy. These multi-function SoCs can extend the life of button batteries up to 10 years, so they have become the energy-saving choice for consumer, commercial, and industrial IoT applications. The EFR32BG22 SoC is equipped with a high-performance Arm® Cortex®-M33 core and provides ultra-low transmit and receive power consumption.
The EFR32MG22 (MG22) series of devices are ultra-small, ultra-low power SoCs optimized for Zigbee green power applications. The MG22 SoC combines a 76.8 MHz Arm Cortex-M33 core with a high-performance 2.4 GHz radio and can support multiple IoT protocols. These energy-saving SoCs are ideal for Zigbee devices powered by coin batteries or energy harvesting equipment, including smart home sensors, lighting control equipment, and building and industrial automation.
The EFR32FG22 (FG22) SoC can support energy-efficient proprietary protocol networks in IoT devices with limited power and size. This single-chip device uses a 38.4 MHz Arm Cortex-M33 processor and a 2.4 GHz radio with a receiving sensitivity of -106.4 dBm. FG22 SoC has advanced security functions and a complete set of software tools and protocol stacks. It is an ideal choice for applications such as building security, electronic shelf labels, industrial automation sensors and commercial lighting custom modules.