Mouser stocks Dialog subminiature DA14531
Focusing on the introduction and distribution of new global electronic components, authorized distribution and distribution of trader Mouser Electronics (Mouser Electronics) DA14531 SmartBond TINY System-on-Chip (SoC) from Dialog Semiconductor is available now. This SoC is a miniature ultra-low-power Bluetooth 5.1 SoC with low power consumption and high cost performance. It can be applied to a variety of new Internet of Things (IoT) devices, including a growing number of connected medical products.
As a global authorized distributor, Mouser Electronics is committed to quickly introduce new products and technologies, help customers design advanced products, and make customers' products reach the market faster. More than 800 semiconductor and electronic component manufacturers sell their products to global markets through Mouser. Mouser offers its customers only fully certified original products and provides full manufacturer traceability.
Mouser Electronics' Dialog DA14531 SmartBond TINY SoC is a highly integrated product that helps reduce system costs. The SoC is based on the Arm® Cortex®-M0 + microprocessor, with a complete set of analog and digital peripherals, and uses a miniature 2.4GHz transceiver with a form factor of only 2.0mm × 1.7mm. Designers only need to add six external passive devices, a crystal oscillator and a power supply to build a complete Bluetooth low-power system for asset tracking, RFID tags, beacons, wearables, medical And automotive applications.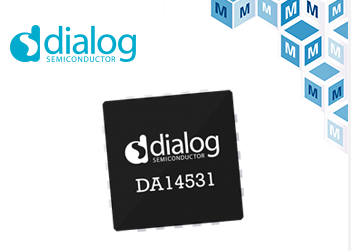 In addition, Mouser also stocks the Pro and USB versions of the DA14531 SmartBond TINY Development Kit. The DA14531 Development Kit Pro includes a Bluetooth low energy motherboard, a daughter board equipped with a DA14531 SoC, and a mini-USB cable. Compatible with Arduino Uno. With the DA14531 Development Kit Pro Edition, users can perform RF measurements using embedded printed antenna and SMA connector functions. The DA14531 development kit USB version is a small portable USB board with Bluetooth low energy technology, with a mikroBUS connector, 2Mbit SPI flash memory, and the on-board DA14531 SoC.
Mouser Electronics has a rich product line and considerate customer service, and actively introduces new technologies and products to meet the various needs of design engineers and procurement staff. We stock a large number of new electronic components to support our customers' next-generation design projects. Mouser's website mouser.cn not only has a variety of advanced search tools to help users quickly understand product inventory, but the website is constantly updated to continuously optimize the user experience. In addition, the Mouser website also provides a wealth of information such as data manuals, supplier-specific reference designs, application notes, technical design information, and engineering tools for user reference.