Mouser Electronics stocks Laird Connectivity Sentrius IG60-BL654 Starter Kit
Mouser Electronics, a distributor of electronic components focused on introducing new products and driving industry innovation, is now stocking Laird Connectivity's Sentrius ™ IG60-BL654 and BT510 starter kits. The kit uses new wireless IoT gateway products from Laird ConnecTIvity's growing family of IoT devices, which can safely and reliably connect Bluetooth-enabled sensors to the cloud. In this way, it takes only a few minutes to easily provide the various functions needed to start the wireless Internet of Things (IoT) proof of concept, including temperature sensing, vibration sensing, proximity sensing, and door open / close report .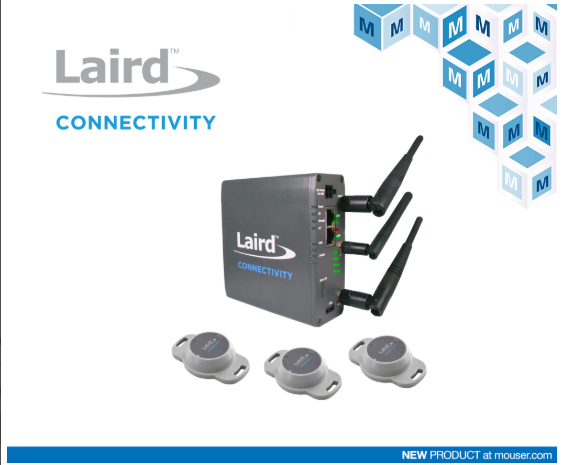 The Laird ConnecTIvity Sentrius IG60-BL654 and BT510 starter kits distributed by Mouser Electronics include the Sentrius IG60-BL654 gateway with Amazon Web Services (AWS) and three BT510 Bluetooth 5 sensors. Engineers can use the BT510 sensor to obtain data, and collect these data through the IG60-BL654 gateway, and then send the collected data to the cloud via AWS IoT Greengrass, and achieve rapid on-site configuration through the corresponding iOS and Android mobile applications.
IG60-BL654 is based on Laird ConnecTIvity's 60 series module system (SoM) and BL654 embedded Bluetooth module, and uses Nordic Semiconductor nRF52840 system-on-chip (SoC) to provide a powerful platform for long-range Bluetooth 5 sensor to cloud applications. Bluetooth combined with Wi-Fi enables customers to capture data from Bluetooth 5 sensors and process them with the help of edge intelligence, and then send these data to the cloud through high-performance 802.11ac Wi-Fi.
Sentrius BT510 is a multi-sensor platform that combines Bluetooth 5 functions such as temperature sensing, on / off sensing, motion sensing and impact sensing with long-distance transmission (Coded PHY), security and Bluetooth low energy beacons Combined together. The module integrates the actual proven Laird ConnecTIvity BL654 series long-distance transmission module and Nordic nRF52840 SoC, which has advanced processing capabilities, and only 1MB flash memory can be used to develop feature-rich applications.
In addition to this kit, the IG60-BL654 gateway also provides two versions, namely the previously mentioned AWS IoT Greengrass version and Laird Connectivity Linux version, which includes the Linux system, hardware root of trust and development tools built by Laird Connectivity. Both versions have passed the global certification of entities such as FCC, IC CE, MIC, UL, Bluetooth Alliance, PTCRB and GCF, and the terminal equipment has also passed AT & T and Vodafone certification.