Vishay Introduces New Suppression Film Capacitors
The device is subjected to a 1000 hour THB test at a temperature of 85 ° C, a relative humidity of 85% and a rated voltage to ensure an extremely long service life under harsh environmental conditions.
Pennsylvania, MALVERN—August 26, 2019 — Vishay Intertechnology, Inc. (NYSE: VSH) today announced the launch of three new X1, X2, and Y2 electromagnetic interference (EMI) suppression film capacitors, the F340X1. F340X2 and F340Y2, the device meets the requirements for jumper and bypass circuit applications. The latest series of F340 EMI suppression capacitors meet the most stringent humidity reliability requirements and have passed IEC 60384-14:2013 ed. 4 / AMD1:2016 Class IIIB: "High Humidity and High Reliability" certification.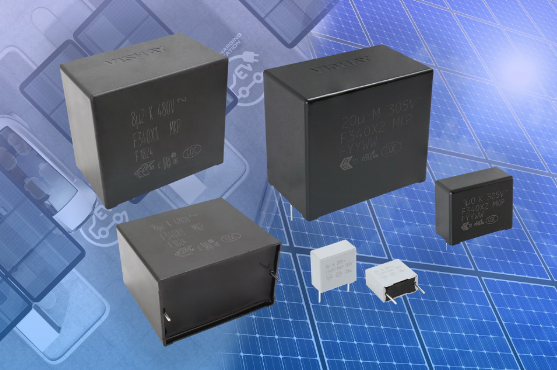 In order to meet the humidity level requirements of IEC 60384-14:2013 ed. 4 / AMD1:2016 IIIB, the recently released Vishay BCcomponents device has a temperature of 85 hours at a temperature of 85 ° C, a relative humidity of 85%, and a rated AC voltage. Bias (THB) test, capacitance, loss factor and insulation resistance are extremely stable, allowing for longer lifetimes in harsh applications in industrial and automotive power electronics, such as battery chargers, renewable energy counters Transformers, motor drives and UPS.
The F340X1 is rated at 480 VAC, has a capacitance of 0.22 μF to 8.2 μF, and operates up to 530 VAC to ensure compliance with three-phase supply voltage variations. The F340X2 is rated at 305 VAC with a capacitance of 1 μF to 20 μF and ripple currents up to 18 A at 10 kHz. The F340Y2 is AEC-Q200 certified, with a rated voltage of 305 VAC and a capacitance value of 10 nF to 1 μF.
The full range of F340 devices is certified for EN, UL and CQC safety and humidity reliability. Capacitor pin pitches are 15 mm, 22.5 mm, 27.5 mm, 37.5 mm, and 52.5 mm. Capacitor molded case and epoxy resin seals meet the UL 94 V-0 standard. All three devices are RoHS compliant (Pb) compliant. The F340X1 480VAC and F340X2 305VAC are also compliant with the Vishay green standard and are halogen free.
Samples of the new X1, X2 and Y2 capacitors are available now with a lead time of 16 weeks.