Vesper introduces the latest piezoelectric MEMS microphone
Vesper, the world's leading developer of piezoelectric MEMS acoustic sensors, recently announced the launch of the latest piezoelectric MEMS microphone VM3000. The VM3000 is the first digital microphone in the Vesper portfolio, which greatly expands the range of applications that its powerful piezoelectric MEMS microphones can serve. This high-performance, low-power MEMS microphone features ultra-fast start-ups of less than 200 microseconds to deliver superior performance in all applications. Applications that benefit from its digital interface include smartphones, cars, laptops, and smart speakers.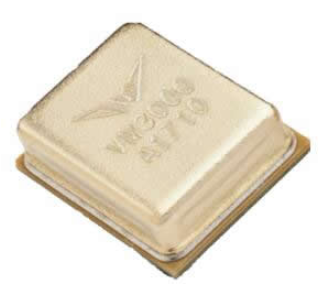 The VM3000 has a Pulse Density Modulation (PDM) output that multiplexes two microphones on a single data line. In addition, it provides high immunity to radio frequency interference (RFI) and electromagnetic interference (EMI), giving designers greater flexibility in microphone placement and system cabling.
Since piezoelectric MEMS microphones do not require a bias voltage, they have an ultra-fast start-up time. This ultra-fast start-up time allows the system to wake up quickly to capture complete keywords, and when combined with Vesper's ZeroPower ListeningTM technology, its keyword capture accuracy is doubled. And, the ultra-fast start also means that the microphone does not need to remain in standby mode, which further saves power.
"The VM3000 is our first digital microphone that will enable our piezoelectric MEMS microphones to serve a wider range of applications and can be used with almost any audio chip. For large arrays, large systems and lots of RF interference The VM3000's strengths are particularly strong," said Vesper CEO Matt Crowley. "This proves that Vesper is able to develop complex high-performance application-specific integrated circuits (ASICs) to match our breakthrough piezoelectric MEMS technology."
The VM3000 has a typical signal-to-noise ratio (SNR) of 63 dB (1 kHz signal) and provides an acoustic overload point (AOP) of 122 db sound pressure level (SPL).
Robust and reliable
As the industry's first digital piezoelectric MEMS microphone, the VM3000 is the most powerful and reliable MEMS microphone available for consumer products. It is waterproof, dust-proof, particle-resistant and shock-resistant, so it stays up and running without fear of flooding, dust, exposure to dust particles or falling. Whether acting as a stand-alone microphone or microphone array, the VM3000 is a microphone that can withstand harsh environments and provide rich acoustic performance.
More about VM3000
The VM3000 is available in an industry-standard 3.5 mm x 2.65 mm x 1.3 mm package and is compatible with reflow soldering processes without compromising device sensitivity. The VM3000 currently offers bottom-in sound, with ultra-fast start-up times below 200 microseconds and sleep mode power consumption of only 2 microamps (uA). The VM3000 is now sampling in volume and is scheduled to begin mass production in the fourth quarter of 2019.
About Vesper
Headquartered in Boston, Massachusetts, Vesper is an advanced sensor private company that originated at the University of Michigan. Vesper's award-winning microphones drive a new era of ubiquitous voice interaction and sound event monitoring products with proprietary piezoelectric MEMS technology.