UnitedSiC adds seven SiC FETs to the 650V product family
Nuremberg, NJ, USA - Nutinberg, a manufacturer of silicon carbide (SiC) power semiconductors, announced that it has been UJ3C (universal) and UF3C (hard switching) series 650V. SiC FETs have added seven new TO220-3L and D2PAK-3L device/package combinations.
These new devices offer a new level of high-voltage power performance for applications such as fast-growing data center server power supplies, 5G base station telecom rectifiers, and electric vehicle car chargers. These new devices will be very attractive to design engineers who still prefer the 3-pin, TO220 or D2PAK package options, but are also working to improve power factor correction circuits, LLC resonant converters and phase-shifted full-bridge converters. Power performance.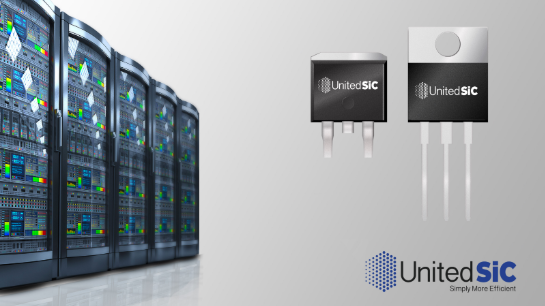 UnitedSiC's UJ3C and UF3C FET product lines are unique in their true "direct replacement" capability. By replacing existing Si IGBTs, Si FETs, SiC MOSFETs, or silicon superjunction devices with UnitedSiC FETs, designers can significantly improve system performance without changing the gate drive voltage.
Both series of SiC FETs are based on UnitedSiC's unique "cascode" circuit configuration, in which normally-on SiC JFETs are packaged with Si MOSFETs to create a normally gated state with standard gate drive characteristics (normally -off) SiC FET device. As a result, existing systems will have significant performance improvements with UnitedSiC "direct replacement" FET upgrades, enabling lower turn-on and switching losses, enhanced thermal performance and integrated gate ESD protection. In the new design, UnitedSiC FETs offer higher switching frequencies, resulting in significant system advantages, higher efficiency, and reduced size and cost of passive components such as magnetic components and capacitors.
The industry-standard three-pin TO220-3L package provides enhanced thermal characteristics through UnitedSiC's sintered-silver packaging technology. New products offered in this package include UJ3C devices with RDS(on) values ​​of 30 and 80mΩ, and UF3C devices with RDS(on) specifications of 40mΩ.
The three-lead industry standard D2PAK-3L package is designed for surface mount and is certified by IPC and JEDEC's Moisture Sensitivity Level 1. New products offered in this package include UJ3C devices with RDS(on) specifications of 30mΩ and 80mΩ, and UF3C devices with RDS(on) specifications of 30mΩ and 40mΩ.
UnitedSiC also offers automotive graded devices that are AEC-Q101 compliant.
Price and availability information
The unit price of all devices varies according to the RDS(on) value, which is calculated in a minimum of 1,000 pieces. For the D2PAK-3L package, the unit price ranges from $5.18 to $14.35. For the TO220-3L package, the unit price of the device. It is $5.18 to $13.79. The device is available in stock at authorized United Silicon distributors such as Mouser and Richardson Electronics.