Texas Instruments OPA855 8-GHz Operational Amplifier
Mouser Electronics, Inc., which specializes in the introduction of new electronic components, is now available for purchase from Texas Instruments (TI)'s OPA855 incomplete compensation amplifier. This bipolar input wideband low noise op amp is ideally suited for high bandwidth transimpedance amplifiers and voltage amplifiers with an 8 GHz gain-bandwidth product (GBWP) for high gain configurations while maintaining high closed-loop bandwidth. Not only that, the OPA855's input noise is only 0.98nV/√Hz, which minimizes the effects of noise from the amplifier, while its slew rate is 2750 V/μs for a wider voltage swing.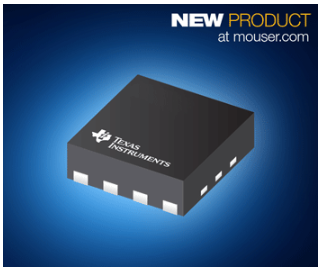 The Texas Instruments OPA855, which is marketed as a Transimpedance Amplifier (TIA), has an input capacitance of only 0.8pF, which minimizes the total input capacitance of the circuit and helps design a higher speed solution. The device also simplifies the layout of the feedback network with a unique package pinout and isolates the inter-pin capacitance generated between the input and feedback connections. This design reduces the total parasitic capacitance around the amplifier's feedback network, allowing high-gain TIA designs to achieve high bandwidth.
The OPA855 used as a TIA can be used with optical time-of-flight (ToF) systems in conjunction with time-to-digital converters such as TI's TDC7201. In addition, the OPA855 can be used with differential output amplifiers (such as TI's THS4541 or LMH5401) to drive high speed analog-to-digital converters (ADCs) in high-resolution LIDAR systems.
The OPA855 is a new addition to TI's ultra-wideband op amp family, which also features the OPA858 and OPA859 devices using FET inputs. This family of amplifiers is ideal for high-bandwidth transimpedance circuits, as well as high-speed data acquisition systems and low-noise front-end applications. The OPA855 is supported by the OPA855DSGEVM op amp evaluation module dedicated to the device and the universal DEM-OPA-WSON8-EVM unloaded evaluation module.