STMicroelectronics Updates TouchGFX Software Package
STMicroelectronics has updated the STM32* microcontroller TouchGFX user interface software framework with new features that make the graphical user interface smoother, more dynamic, and reduce the need for memory and CPU.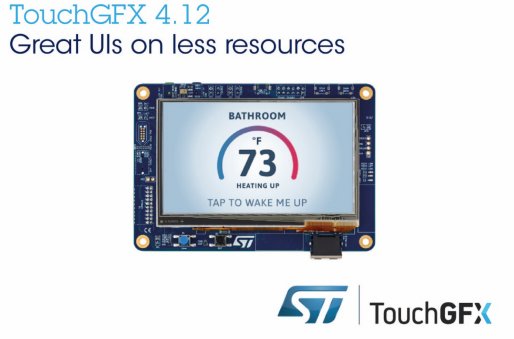 TouchGFX is a set of free software tools in the STM32 ecosystem, including TouchGFX Designer PC (PC-side tools) and TouchGFX Engine (device-side software). The TouchGFX Designer PC is designed to configure and configure a rich user interface, while the TouchGFX Engine runs on the terminal device, enabling high performance in the user interface. Both versions of the 4.12 version of TouchGFX have been updated. Users can now build advanced user interfaces on a single-chip display solution, eliminating the need for external RAM memory or flash memory, energy-saving features that extend battery life, and streamlined development processes to help speed time-to-market.
Now, the TouchGFX Engine's partial frame buffer mode only takes up 6KB of RAM space, and the full-featured user interface requires only 16KB of RAM space. Therefore, the STM32 MCU with small storage capacity can provide users with an excellent graphical interface experience without external memory. In addition, the new 8-bit brightness (L8) includes 16-bit, 24-bit and 32-bit color depth, reducing the need for flash memory capacity. Despite its small storage capacity, TouchGFX leverages STM32 Chrom-ART AcceleratorTM technology to increase graphics processing speed, handle complex visual effects, and maximize interface performance. The new upgrade also includes a new cacheable container with dynamic bitmaps that reduces the CPU's high frame rate and runs the load of smooth animation.
Users can now choose a 6-bit color depth, which saves space on RAM and flash memory, while also providing 64 colors for creating entry-level GUIs. Support for external non-memory mapped flash is also a new feature that builds a basic user interface within tight system resource budgets.
The TouchGFX Designer update includes new applets added to the powerful customizable widget set. For example, Scale and Rotate are two small programs that make simple drag-and-drop programming more powerful. Custom triggers and actions reduce the dependency of complex feature creation on programming, and the new Image tab allows users to quickly configure individual properties such as image format, dithering algorithms, and layout rotation. Other performance improvements include accelerated automatic code generation and reduced load times, as well as new and useful text movement features such as forward and backward.
The complete TouchGFX package, including TouchGFX Designer and TouchGFX Engine, is now available for download from https://www.st.com/touchgfxdesigner.