STMicroelectronics sells 1 billion ToF sensor modules
STMicroelectronics (ST; New York Stock Exchange: STM), a leading global semiconductor supplier spanning multiple electronic applications, announced that it has shipped 1 billion units of time-of-flight (ToF) modules. ST's ToF sensor uses its single photon avalanche diode (SPAD) sensor technology and is manufactured at ST's 300mm pre-process wafer fab in Crolles, France. The final module integrates a SPAD sensor and a vertical cavity surface emitting laser (VCSEL), as well as the necessary optical components to improve the performance of the product.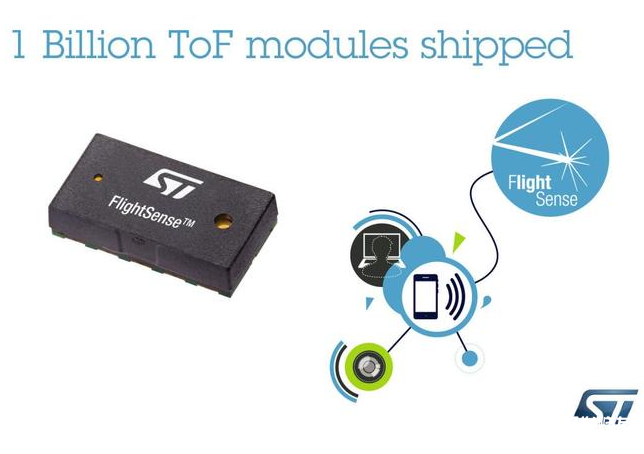 Eric Aussedat, general manager of the imaging division of STMicroelectronics, said: "ST is one of the earliest manufacturers to develop time-of-flight technology. It has completed the transformation of scientific research results and turned it into a market-leading series of products that can be mass-produced. Used by more than 150 smartphones, shipments have just exceeded the 1 billion mark. In the process of continuing to invest in this technology, ST 's FlightSense? To multi-range ranging devices, and recently added a high-resolution 3D depth sensor that uses advanced proximity detection sensors, human presence detection, and laser autofocus for innovative applications. "
The VL6180, VL53L0 and VL53L1 series and other products are now in volume production, with targeted applications in the consumer electronics, personal computer and industrial markets. STMicroelectronics uses its unique vertically integrated manufacturing model to produce time-of-flight sensors, providing customers with first-class service levels, product quality, customer support and product performance.
The development and launch of ST's high-performance time-of-flight technology brings significant performance advantages to customer products. By optimizing the module's size, power consumption, and ranging capabilities, and providing longer measurement distances than competing products, the FlightSenseToF sensor enables a variety of use cases, such as users who can control the wake-up and sleep modes of laptops, displays, or other devices Presence detection; user proximity detection; laser autofocus (LAF) in smartphone camera hybrid focus algorithm.
Taking the camera subsystem as an example, the camera subsystem is the main factor that keeps smartphones different. The LAF function can improve the camera's focusing performance under harsh shooting conditions, such as low-light conditions or low-contrast subjects that are difficult to handle with traditional autofocus systems. Laser autofocus has been widely used by major smartphone manufacturers, most of which use ST's ToF technology. In fact, a widely recognized camera evaluation benchmarking agency has rated the "top ten cameras" for smartphones, many of which are equipped with STMicroelectronics' time-of-flight technology.
There are also many mass market products that also use ST's time-of-flight products. These products include cleaning robots, laptops, children's tablets (eye protection), automatic faucets, home drones, robots, projectors, and more.
The local ST application and customer support team has completed hundreds of process design acceptance awards and has expertise in integrating sensors into OEM products, reference software for platform integration, selection of touchscreen cover material, and algorithm customization . Customers can take advantage of this high-value support to speed time to market for new products.