STMicroelectronics Releases Integrated RF and PLC
STMicroelectronics (ST; New York Stock Exchange: STM), a leading global semiconductor supplier across multiple electronic applications, is driving smarter urban and industrial infrastructure in its market-tested smart meter The power line and wireless communication technologies are integrated in the chipset.
The STMicroelectronics ST8500 Power Line Communication (PLC) chipset is widely adopted by many smart meters. Today, the combination of wired and wireless connectivity technologies allows smart meters to pass existing power lines or radio frequency (RF) radio waves. Data acquisition device communication.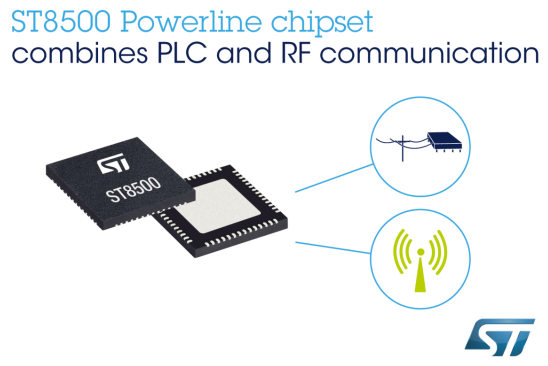 For manufacturers who cannot use the PLC due to power line noise problems or local regulations, device manufacturers can now use the ST8500 to quickly and efficiently implement wireless and PLC communication functions. In addition, the built-in RF function allows device designers to use the ST8500 to develop other smart devices (eg smart gas meters, smart water meters, environmental monitors, lighting controllers and industrial sensors) to take full advantage of the ST8500's high level of integration and ease of use. .
ADD Grup, the European smart meter solution company, is the first to release a new PLC/wireless hybrid meter with this upgraded chipset. Ruslan Casico, ADD Grup Sales and Marketing Director, said: "Since wireless support is now fully integrated into the ST8500 firmware, ST's chipset is an ideal platform for improving the network performance, reliability, capacity and scalability of innovative meters. The PLC/Wireless hybrid communication capabilities have helped us win important metering projects in EMEA, Russia and Asia."
Domenico Arrigo, General Manager of the STMicroelectronics Industry and Power Conversion Division, added: "ADD Grup is the first to deploy our chipset in the next generation of smart meters. By supporting RF and market leading PLC protocols, our market-proven chipset allows Global smart cities and industry infrastructure can unlock greater potential, save the planet's resources, and increase control automation and energy efficiency."