STMicroelectronics Introduces STSPIN Module
STMicroelectronics introduced the STSPIN module to add high-performance motor drives to the MikroElektronika Fusion forArm® Ecosystem development board.
STMicroelectronics partnered with ST Authorized Partner MikroElektronika to develop four Click boardTM development boards that extend the benefits of STSPIN motor drives to development platforms outside the STM32 development board, allowing the use of MikroElektronika prototype boards and other onboard mikroBUS Users of the TM socket system can also enjoy the benefits of the STSPIN motor drive.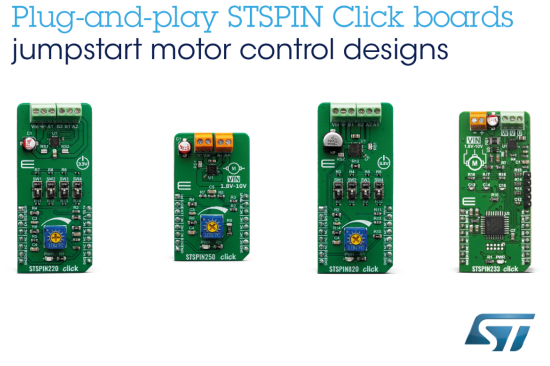 ST's STSPIN IC simplifies motor control design by integrating advanced control functions, protected output stages, and overcurrent protection with no dissipation power dissipation in a tiny package. The motor drive is mounted on the new Plug and Play Click board and can be used without any hardware configuration. In addition, STMicroelectronics actively supports the creation of the MikroSDK software library and code examples, and works with MikroElektronika to provide high-performance software that allows users to get the most out of each board.
STSPIN220 Click integrates STSPIN220 IC in 3mm x 3mm QFN package, the market's first 256-step resolution 10V stepper motor driver with the industry's smallest standby current, typically 10nA, and can be controlled by PWM current The function and any of the two 0.4ΩH bridges on the output deliver up to 1.3A of current, driving and controlling motor operation.
The STSPIN820 Click board integrates the STSPIN820 stepper motor driver with 256 fine step resolutions in a 4mm x 4mm QFN package with an output current of up to 1.5A. It is a cost-effective motor drive solution for 7V-45V applications.
The STSPIN250 Click board integrates a 3mm x 3mm STSPIN250, the smallest high current brushed DC motor driver on the market for 1.8V to 10V motors and capable of delivering up to 2.6A through a 0.2Ω on-resistance H-bridge. The standby current is extremely low, only 10nA (typical).
The STSPIN233 Click board is suitable for driving brushless DC (BLDC) motors with an onboard 3mm x 3mm STSPIN233 motor driver chip. The three half-bridges are equipped with independent input and enable pins and support 3-shunt current sensing technology. The STSPIN233 is designed to drive 1.8V-10V motors with an ultra-low 10nA (typ) standby current and is available in a compact 3mm x 3mm QFN package.
The STSPIN driver supports low motor voltages, uses energy-efficient, low-resistance MOSFETs, has a low standby current, and is compact in package size, ensuring longer battery life and portable, mobile and smartphone pop-up cameras, pan/tilt, Saves board space in battery-powered applications such as healthcare equipment, small appliances, toys, POS collection terminal equipment, robots, drones, electronic locks and valves.
The Click boardTM module for STSPIN motor drives is now available for sale, joining the world's fastest growing expansion board standards and ecosystem. The ecosystem has more than 700 Click development boards. With the addition of the STSPIN Drive Click Board, from professional engineers and manufacturers to amateurs, all users can excel in a faster and easier way than ever before. The motor control function was introduced into the design project.
Three STSPIN Click boards are available, and the STSPIN233 version will be available at the end of the fourth quarter of 2019.