STMicroelectronics Dual RF Bluetooth/LPWAN IoT Development Kit
STMicroelectronics' STEVAL-FKI001V1 dual RF development kit supports low-power Bluetooth® Low Energy (BLE) and Sub-1GHz parallel wireless communications, dramatically increasing the design, development efficiency and connectivity flexibility of IoT devices, for example, through various Network sensors, protocols, and services enable intelligent sensors, probes, and trackers for configuration, update, remote monitoring, and tracking functions.
To drive more creativity from developers in smart home/smart building, asset tracking, energy management, smart agriculture and industrial monitoring, the STEVAL-FKI001V1 development board integrates ST's BlueNRG-1 Bluetooth system chip and S2-LP sub -1GHz transceiver, a powerful dual RF architecture that supports simultaneous operation of various radio bands and communication protocols, such as low-power Bluetooth or proprietary 2.4GHz, Sub-1GHz and Sigfox technologies.
Users can quickly develop smart IoT devices with mesh or point-to-point local interconnects and support flexible connection to the cloud, for example, to create a local wireless sensor network with BLE Bluetooth or Sub-1GHz, then through a local gateway or directly through the ubiquitous The seamless Sigfox network connects the entire system to the cloud, making it easy to create a convenient smart home sensor ecosystem for security monitoring or remote monitoring purposes, all with a single STEVAL-FKI001V1 kit.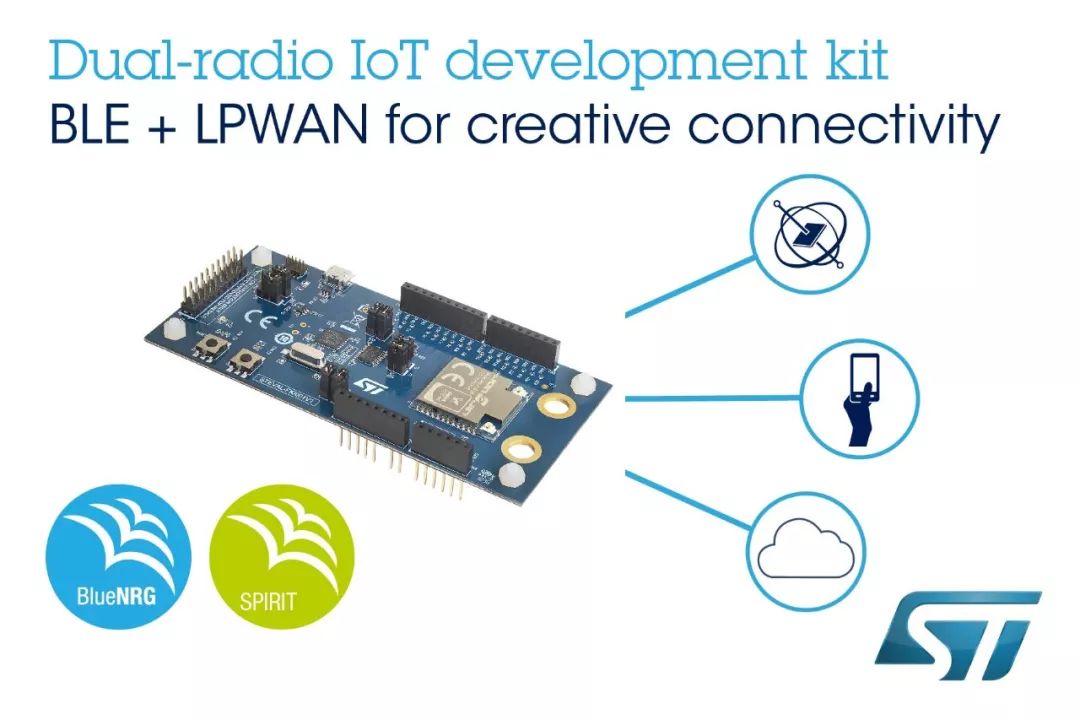 The BlueNRG-1 Bluetooth 5.0 authentication solution ensures easy setup, configuration, or modification of parameters during device installation or maintenance, and allows users to monitor sensor network nodes through Android or iOS device applications.
The Sub-1GHz S2-LP transceiver supports local networking and LPWAN networking, including Sigfox global connectivity, and supports real-time notification of events. In addition, users can use the immediately available Sigfox network to track and locate device assets.
The user can extend the kit functionality at any time via the ArduinoTMUno V3 connector on the board. The ST X-NUCLEO ecosystem provides developers with a variety of companion boards, including MEMS sensors, motor control, GNSS receivers or industrial I/O And an expansion board for the power drive.
The STEVAL-FKI001V1 development kit is also fully compatible with the recently released BlueNRG-Tile board, giving developers the opportunity to further unleash their creativity and easily build end-to-end smart sensor solutions, including sensor nodes, local gateways and global cloud connectivity.
Utilizing the versatile interface of the BlueNRG-1 SoC and the ultra-low-power Arm® Cortex®-M0 processor core and 256KB of embedded program memory, users can connect selected external sensors and process locally acquired data in real time. The STEVAL-FKI001V1 features easy-to-use SDK software that simplifies product development and reduces time-to-market while maintaining system flexibility, scalability and scalability. In fact, the software can also be used with the ST BlueNRG-Mesh package to create large networks on large-scale installations. The BLE connection supports firmware over-the-air updates.
Based on Jorjin's ready-to-use WS2118 RF dual RF module, STEVAL-FKI001V1 provides developers with a convenient pre-certified solution for rapid prototyping, field trials and volume production from the early conceptual feasibility design phase. This programmable ultra-low-power RF module features flexible power management and wake-up events, and a small battery can be used for many years.
Users can now purchase the STEVAL-FKI001V1 development kit from STMicroelectronics distributors or directly through st.com.