ST launches intelligent gateway platform for domain controller applications
ST's Intelligent Gateway Platform (SGP) provides a valuable development tool for prototyping automotive intelligent gateway and domain controller applications.
The development of automotive architecture, including high-throughput in-vehicle networks and high data-rate connections to the cloud, is increasing demand for high-performance intelligent gateways and domain controller electronic control units (ECUs).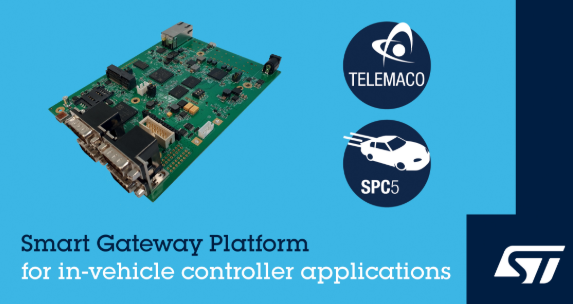 ST's Modular Smart Gateway Platform (SGP) is built on Gigabit Ethernet communication between Security and ASIL-B Telemaco 3P Microprocessor (MPU) and ASIL-D SPC58 / Chorus Microcontroller (MCU) Can provide powerful processing capabilities to handle firewall functions, with predictive maintenance, over-the-air (OTA) upgrades, and high data rate communications between different ECUs and with the cloud.
Although the Chorus MCU provides real-time, low power consumption, and guarantees in-car connectivity through its multiple CAN-FD interfaces, the Telemaco3P MPU extends gateway computing capabilities by providing two arms® Cortex® POSIX-compliant operating system supporting A7 processing capabilities and embedding Security module to handle OTA updates, firewall and predictive maintenance functions.
The SGP reference design has a rich set of in-vehicle network interfaces, including multiple Ethernet and CAN ports, and support for LIN and FlexRay connectivity. It is deployed with a comprehensive starter pack, including hardware design files, hardware / software documentation, software utilities (drivers and updates), and sample applications.
SGP also integrates extended connectivity with Wi-Fi and LTE modules for complete prototypes of use cases that require cloud connection simulation. Its modular architecture provides the best framework for easy platform scalability in performance, networking and software.