SMI introduces the latest MEMS low voltage sensor SM9541
Recently, Elmos and SMI announced the launch of the SM9541, a new line of MEMS low-voltage sensors designed specifically for the respiratory market. It features a user-friendly digital interface with 14-bit resolution. With industry-leading precision of less than 1%, medical device design engineers will achieve higher performance, stability and customization flexibility.
SMI (Silicon Microstructures, Inc.) introduced the SM9541 MEMS low-voltage sensor series specifically designed for medical respiratory instruments. The unique composite pressure meter based on this chip provides the best signal resolution and diagnostics. 14-bit resolution and 1% accuracy provide high performance for users, with 0.2% full-scale drift stability per year providing stability and long-term reliability for critical healthcare products. Its low pressure detection range is up to 10, 20, 40 and 100 cm H2O (0.14, 0.3, 0.6 and 1.4 PSI). With a custom solution, the SM9541 will revolutionize the next generation of respiratory health products with an I2C digital interface and the industry's highest precision and stability.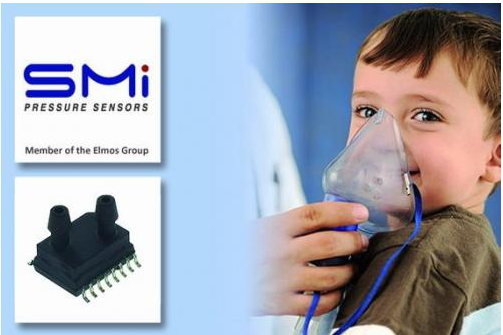 At the heart of the SM9541 is the MEMS pressure sensor and SMI's innovative and unique silicon technology platform. From SMI's technology, users get the highest level of precision and long-term high performance, which is the strict technical indicators pursued by the medical industry. Paired with MEMS pressure sensors is the most advanced signal processing chip, which provides comprehensive pressure calibration and temperature compensation through a friendly interface to the I2C digital interface. The pressure sensor package is based on standard surface mount technology standards and is available in JEDEC-compliant SOIC-16 packages for direct PCB design and assembly. Design engineers will benefit from the design flexibility and repeatability of the SM9541 Series. The SM9541 chip has passed product quality certification and can be imported into the user's design and product verification at any time during the mass production phase.
typical application:
Sleep apnea (CPAP, MPAP)
Ventilator / anesthesia equipment
Oxygenator
Spirometer