Silicon Labs' New Mesh Network Module Simplifies Design of Secure IoT Products
Pre-certified Zigbee®, Thread and Bluetooth mesh modules simplify the development of smart LEDs, home automation and industrial IoT solutions.
China, Beijing - September 26, 2019 - Silicon Labs (also known as "Core Technology", NASDAQ: SLAB) introduces a new line of highly integrated, secure Wireless Gecko modules that reduce development costs and complexity for easier Add powerful mesh network connectivity to a wide range of Internet of Things (IoT) products. The new MGM210x and BGM210x Series 2 modules support leading mesh networking protocols (Zigbee®, Thread and Bluetooth mesh), Bluetooth low energy and multi-protocol connectivity. From smart LED lighting to home and industrial automation, they offer a one-stop wireless solution that improves mesh network performance in wired-powered IoT systems.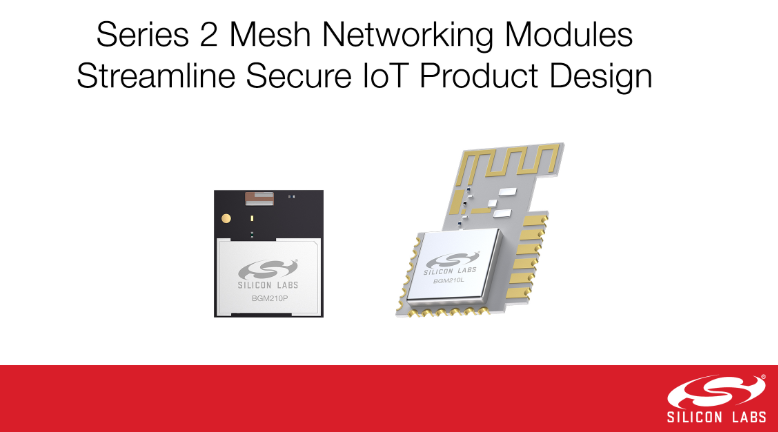 For IoT product developers, time to market is a major challenge and can create a potential competitive advantage. Silicon Labs' pre-certified xGM210x modules help reduce the development cycle associated with RF design and protocol optimization, enabling developers to focus on their end applications. Pre-certified by North America, Europe, Korea and Japan, these modules minimize the time, cost and risk associated with global wireless certification. The xGM210x module can reduce time to market by several months.
Based on Silicon Labs' Wireless Gecko Series 2 platform, the new module features industry-leading RF performance, the powerful Arm® Cortex®-M33 processor, industry-leading software stack, dedicated safety core and operating temperature up to +125°C Suitable for harsh environmental conditions. The xGM210x module is designed to optimize the performance of resource-constrained IoT products without sacrificing functionality that impacts communication reliability, product security or field scalability. The integrated RF power amplifier makes these modules ideal for remote low-power Bluetooth applications that require hundreds of meters of line-of-sight connections.
Matt Saunders, vice president of marketing and applications for IoT products at Silicon Labs, said: "This new application-optimized portfolio of modules provides a fast and easy wireless portal for mesh networks, helping IoT developers get ahead of their competitors. Connected products are introduced to the market while effectively protecting the investment in tools and software. Our fully integrated module design, comprehensive wireless protocol stack, state-of-the-art security and powerful development tools help our customers with minimal R&D investment. Adding wireless connectivity and mesh networking capabilities to IoT applications saves months of engineering effort and testing."
The initial lineup of the Series 2 module portfolio includes the industry's first pre-certified wireless module optimized for LED bulbs and a universal printed circuit board (PCB) form factor designed to meet the needs of a variety of ultra-small IoT products.
The xGM210L module is designed to meet the unique performance, environmental, reliability and cost requirements of smart LED lighting. These modules combine a custom form factor for easy installation of LED bulb housings, maximized wireless range PCB antennas, high temperature ratings, extensive global regulatory certification, and low operating power for perfect cost-sensitive, high-volume production of smart LED bulbs. Wireless solution.
The xGM210P module features a PCB form factor, integrated chip antenna and minimal structural void area, simplifying space-constrained IoT design, including intelligent lighting, HVAC, building and factory automation systems.
Internet of Things security
The xGM210x module provides best-in-class features that enable developers to achieve strong security in IoT products. Secure Boot with Trusted Root and Trust Loader (RTSL) technology helps prevent malware injection and rollback, ensuring reliable firmware execution and wireless (OTA) updates. A dedicated security core isolates the application processor and provides fast, efficient cryptographic operations through differential power analysis (DPA) countermeasures. True Random Number Generator (TRNG) compliant with NIST SP800-90 and AIS-31 enhances device encryption. A secure debug interface with lock/unlock capability allows authenticated access to enhance fault analysis. The module's Arm Cortex-M33 core integrates TrustZone technology to enable system-level hardware isolation for trusted software architectures.
Simplify IoT development
Developers can take advantage of Silicon Labs' Simplicity Studio integrated development environment, application demonstrations and mobile applications with a complete software stack to further reduce time-to-market. Advanced software tools, including patented network analyzers and energy analyzers, help developers optimize the wireless performance and power consumption of IoT applications.
Price and availability
The xGM210P module is available now in volume and is available in samples. The xGM210L module is scheduled to be mass produced and supplied in the fourth quarter of 2019. The Wireless Gecko Starter Kit motherboard and Series 2 radio board are available now. For pricing on Series 2 modules and development kits, please contact your Silicon Labs sales representative or authorized distributor.