Qualcomm released the X55 modem
In 2019, with the acceleration of the deployment and testing of 5G commercial networks in the United States and China, the 5G baseband chip wars have been staged in advance. On January 24, Huawei announced the launch of the Barong 5000 chip, which is the industry-standard 5G multimode terminal chip. In the early stage of 5G commercialization, a large amount of data needs to be exchanged between different modes. Compared with Qualcomm 5G baseband chip X50, which only supports 5G single mode, Barron 5000 is smaller and more integrated, and can support 2G/3G/ in a single chip. 4G/5G network, in the sub-6GHz band of 5G network, Baron 5000 peak download rate of up to 4.6Gbps, mmWave (millimeter wave) band peak download rate of 6.5Gbps, is 10 times the 4G LTE experience rate.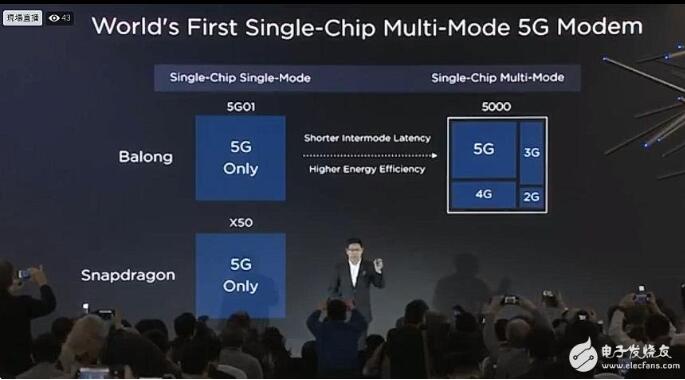 In order to prevent Huawei from taking advantage of this, on February 19th, Qualcomm announced the launch of the first integrated 5G baseband chip X55 and optimized millimeter-wave RF front-end module in the United States.
According to the English version of EETIMES, Qualcomm demonstrated the first generation of 5G smartphones and home gateways using its X50 modem and mmWave module in December 2018. On February 19, 2019, it announced updates to both products.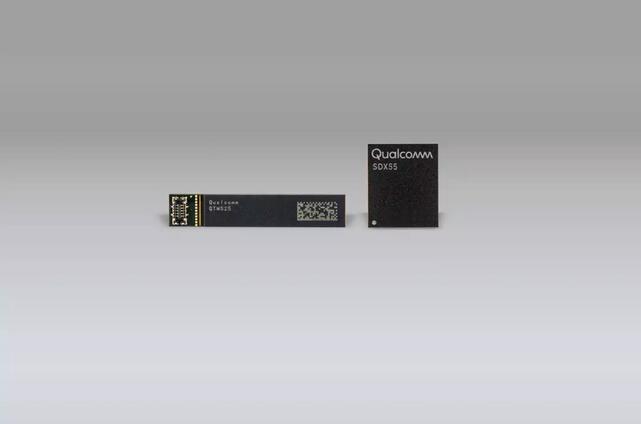 The X55 is the company's first baseband to support all key 5G functions, including stand-alone (SA) and non-independent operation as well as FDD and TDD technologies. It also supports LTE and traditional cellular links. The X50 does not support SA or FDD or LTE. The Snapdragon X55 5G modem is a 7nm single chip that supports 5G to 2G multimode and also supports 5G NR millimeter wave and below 6 GHz spectrum band.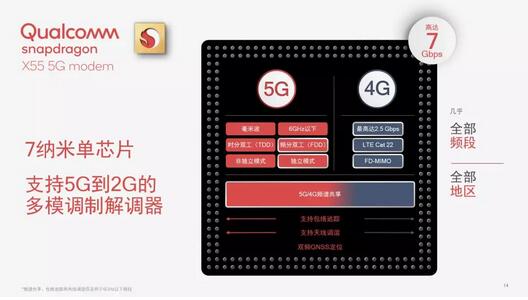 In networks over 5G, the X55 offers download rates of up to 7 Gbits / s and upload rates of up to 3 Gbits / s. At the same time, it also supports 2.5 Gbps download speed on Category 22 LTE. Samples of the 7nm chip are now available and support 100-MHz envelope tracking and adaptive antenna tuning for 5-MHz 6-GHz networks.
The X55 is probably the second of three 5G chips released by Qualcomm within 12 months. Analysts expect Qualcomm to release an integrated application processor with a 5G modem in early 2020.
Qualcomm claims that the X50 targets high-end smartphones - usually paired with the Snapdragon 855 running an integrated LTE modem - and has more than 30 design patents. The first phones using the X50 are expected to debut at the Mobile World Congress later this month. Qualcomm said that phones using the X55 will be available before the end of the year.
With support for LTE and 5G, the X55 is Qualcomm's first 5G modem for embedded devices. It can also operate in China. It is expected that operators will start services through SA and skip using LTE as a non-independent mode for controlling networks.
In addition, Qualcomm also released the QTM525, which is a new version of its mmWave RFFE module. It is longer but thinner than the company's first module and adds support for the 26 GHz band to support the previous part's support for 28 and 39 GHz.
The company is expanding its RF-related business with the transition to 5G. Faced with competitors such as Broadcom, Qorvo and Skyworks, their initial target is 5G handsets below 6GHz. Qualcomm also announced the QET6100, 100 MHz envelope tracker solution, QAT3555 5G adaptive antenna tuner, and a range of integrated 5G / 4G power amplifiers and diversity modules.
With the full launch of the 5G market, Huawei and Qualcomm have successively launched 5G baseband chips and mobile phone chips, all of which contribute to the growth of the 5G terminal market.