Pasternack Introduces New Tunnel Diode Detector
The new tunnel diode detector covers the wideband bands in the 100 MHz to 26 GHz range and has a fast impulse response rise time.
Irvine, Calif. - US brand of Infinite Electronics, the industry's leading RF, microwave and millimeter wave product supplier Pasternack has launched a new line of coaxial packaged tunnel diode detectors, all models are in stock, no minimum order quantity requirements . These detectors are ideal for prototyping and proof-of-concept applications in aerospace, defense, military and commercial radar, test and measurement, and satellite communications applications.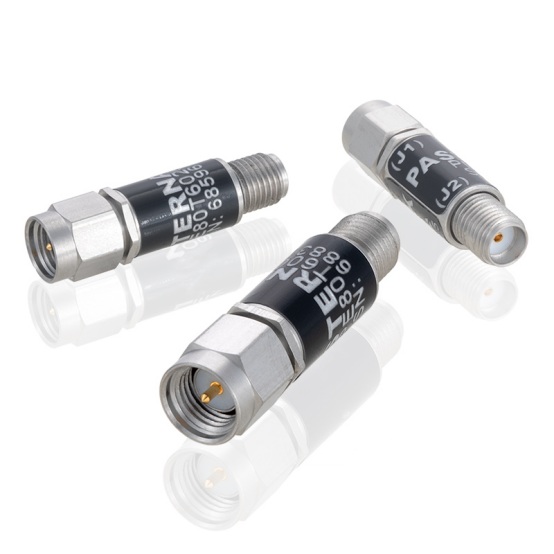 Pasternack's extensive new product line includes 26 tunnel diode detectors in a rugged, planar configuration with multiple frequency bands in the 100MHz to 26GHz range. These products feature a zero-bias design that is divided into positive and negative video output polarities, with excellent dynamic range performance and extremely efficient low-level signal detection. Another advantage of this type of product is that the impulse response rises very fast, typically only 5 nanoseconds. Other features of the detector include: maximum input power handling capability of +17dBm; flat video output response over wideband bands over the wide operating temperature range of -65°C to +115°C; all products are available Compliant with RoHS and REACH standards; available in a variety of small cylindrical packages with SMA male RF input connectors and SMA female video output connectors.
"This new line of tunnel diode detectors is ideally suited for applications that require fast and sensitive power detection. Pasternack has a large and extensive selection of broadband high performance products to meet a wide range of application needs. Detailed and application technical support, available at any time, no minimum order quantity requirements," explains product manager Tim Galla.
The above new products are stocked in the warehouse and can be shipped at any time without minimum order requirements.