MOUSER stocking NXP i.MX 7ULP application processor
Online distribution of electronic components focused on introducing new products and providing massive inventory. Mouser Electronics is now stocking the NXP® Semiconductors i.MX 7ULP application processor. Based on fully depleted silicon-on-insulator (FD-SOI) technology, the processor supports ultra-low power performance and rich graphics capabilities for portable medical devices, smart home controls, wearables, gaming accessories, portable printers and Applications such as scanners.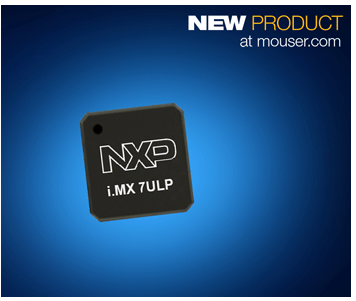 The NXP i.MX 7ULP application processor from Mouser Electronics uses the Arm® Cortex®-A7 and Cortex-M4 cores with separate isolation domains and features 3D and 2D graphics processing units (GPUs). With the Cortex-A7 and Cortex-M4 cores, the processor can run a rich operating system (such as Linux) on the Cortex-A7 and a real-time operating system (RTOS such as FreeRTOS) on the Cortex-M4.
The processor provides 32KB L1 cache instruction memory, 32KB L1 cache data memory, 256KB L2 cache and 512KB SRAM, and supports up to 32-bit LPDDR2/LPDDR3 memory interface, as well as GPIO, I2C, SPI, UART and USB interfaces. Types of. The processor achieves deep sleep standby power as low as 50μW in an optimized configuration and reduces leakage current and extended operating voltage through transistor reverse and forward body bias.
In addition, the company also has a matching i.MX 7ULP evaluation kit. The kit includes a System Level Module (SOM) board that can be connected to the associated substrate for out-of-box startup and support for reconfiguring Mobile Industry Processor Interface (MIPI) displays. The SOM offers 1GB LPDDR3, 8MBQuad SPI flash, a Micro SD 3.0 card slot, Wi-Fi and Bluetooth connectivity, a USB 2.0 OTG connection with a Type-C connector, and an NXP PF1550 power management IC. The kit's baseboard also offers additional features, including an audio codec, an HDMI connector, multiple sensors, and a full-size SD/MMC 3.0 card slot with a bootable SD card pre-installed with the Linux operating system. If further evaluation is to be carried out, the company also has the NXP i.MX7ULP1 MIPI display touch panel.