Mouser Stock Industry 4.0 Inductive and Photoelectric Sensors
Mouser Electronics, a distributor of electronic components focused on introducing new products and providing a large amount of inventory, will begin stocking Molex's Contrinex sensors and photoelectric sensors with immediate effect. These miniature sensors are suitable for applications such as balers, food and beverage, filling equipment, textiles, machine tools, logistics, and more.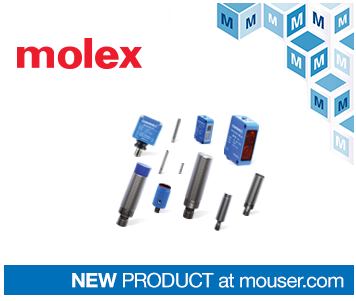 Molex Contrinex inductive and photoelectric sensors are all-in-one sensors with integrated IO-Link, with a compact and rugged housing. This series of sensors belongs to the Molex Industry 4.0 solution series, with a large monitoring range, can adapt to harsh environments, and is ideal for space-constrained applications.
Contrinex induction sensors have a sensing distance of 1 mm to 40 mm, reducing the risk of sensor damage due to objects being too close. This induction sensor uses a one-piece steel-aluminum housing with a reduction factor of 1, the protection grade is IP67 and IP69K, and has good anti-vibration and impact resistance, which is very suitable for harsh and humid environments.
Contrinex photoelectric sensors use cubic and cylindrical housings, supporting three working principles of diffuse reflection, reflected and penetrating beam types, with sensing distances from 1 mm to 50,000 mm. This series of sensors have IP67 degree of protection and Ecolab certification. They are diffuse reflection sensors with background suppression. They have excellent color and contrast recognition capabilities, and use ultraviolet technology for transparent object detection. To facilitate development, Mouser also supplies Molex's photoelectric sensor hardware.
For more information on Industry 4.0 solutions, please check out the Connector & Antenna Solutions for Industry 4.0 jointly launched by Molex and Mouser: www.mouser.cn/news /molex-connector-antenna-ebook/mobile/index.html.
Mouser Electronics has a rich product line and considerate customer service, and actively introduces new technologies and products to meet the various needs of design engineers and procurement staff. We stock a large number of new electronic components to support our customers' next-generation design projects. The Mouser website Mouser.cn not only has a variety of advanced search tools to help users quickly understand product inventory, but the website is constantly updated to continuously optimize the user experience. In addition, the Mouser website also provides a wealth of information such as data manuals, supplier-specific reference designs, application notes, technical design information, and engineering tools.