Molex Introduces Standard Density D-Sub Connector with Machined Contacts
Molex standard density D-Sub connectors with precision machined contacts that can carry up to 7.5 amps of current per pin, and connectors can be used with common panel cuts and length and width dimensions. It is a RoHS-free exemption product that complies with EU regulations on the ban of environmentally hazardous materials.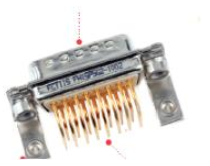 The standard density D-Sub connector features and benefits in a variety of material combinations and gold-plated thickness housing options: steel, brass and stainless steel. The machined joint has superior current-carrying capacity, and can provide various joints and plating methods. The punched joints have many times of plugging and insertion, and the strength is high. Dual ports are available in a variety of configurations, as well as plugs and sockets on the top or bottom for a variety of mounting heights. The standard density D-Sub connector is available in an IP67-compliant waterproof version. The zinc die-cast frame is waterproof and rust-proof, mechanically strong and shielded. Silicone gaskets are available in front and rear panel mount versions, non-magnetic versions, non-ferrous materials, non-nickel-plated underlying magnetic permeability μr ≤1.0025, and permeability is 100% tested.
Standard density D-Sub connectors can be used in the commercial aerospace industry, such as aircraft cabins. Also suitable for medical equipment, such as: magnetic resonance imaging equipment, patient monitors, etc. In scientific instruments, test equipment and measurement control devices are also applied to this connector. In addition, defenses are also used for security and security equipment.
As an authorized distributor of Molex, Heilind can provide relevant services and support to the market. In addition, Heilind also supplies products from many of the world's top manufacturers, covering 25 different component categories, and pays attention to all market segments and all customers. Constantly seeking a wide range of product offerings to cover all markets.