Microchip Introduces Two USB-PD Solutions
The new product features HostFlexing and PDBalancing, a certified USB 3.1 PD Smart HubTM IC, and a stand-alone USB Type-C PD controller to further simplify application design.
USB Type-C has become more widely used, and with the introduction of Power Delivery (PD), it is now possible to charge more types of devices at faster charging speeds than ever before. In the traditional way, the implementation of USB Type-C is very complicated and costly. Microchip Technology Inc. today announced two new solutions to simplify the design of USB Type-C PDs in a variety of applications.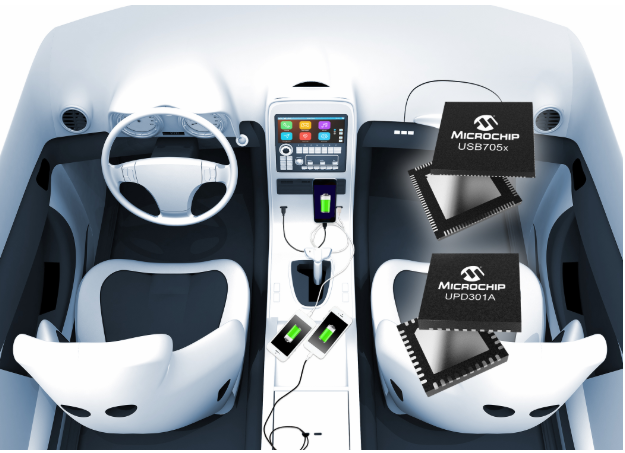 As one of the first USB-IF certified USB 3.1 SmartHub products in the industry, the USB705x family supports Power Delivery (TID1212), which enables fast device charging and introduces a unique PD implementation called Hostflexing and PDBalancing. Another new product, the UPD301A, is a stand-alone USB Type-C PD controller that greatly simplifies the basic USB Type-C PD charging function. It is used in charging applications such as rear seats, portable devices and public charging stations. Ideal choice.
The USB705x family of products carries two unique features - HostFlexing and PDBalancing - to simplify the implementation of USB Type-C PD. HostFlexing simplifies the development experience by allowing all USB Type-C ports of the dock to act as "notebook" ports without the need to use tags to explain the overall functionality of each USB Type-C port. PDBalancing provides manufacturers with a centralized control system to manage the overall system power, charging multiple PD-capable devices at a lower total power, ultimately helping users reduce costs.
To meet the consumer's need for fast charging and data transfer for mobile devices, the USB705x family combines native support for USB Type-C PD and 5 Gbps ultra-high data rates for USB 3.1. The new lineup includes the USB7050, USB7051, USB7052 and USB7056 models, offering a range of USB configurations to meet different PD and USB Type-C design requirements, making them ideal for docking stations, PC monitors and automotive infotainment systems. For example, the USB7050 provides three upstream and downstream USB Type-C ports that support PD, while the USB7056 provides only one upstream port and five legacy Type-A downstream ports. The new hub also supports driver assistance applications on all handheld mobile devices, allowing the graphical user interface of the phone to be displayed on the vehicle's screen while charging the mobile device.
As more and more smartphones demand more than BC 1.2 charging standards, electronic system designers need to be able to easily implement basic high-power charging in the system. The UPD301A provides a simple, stand-alone solution for USB Type-C PD charging in a variety of applications. The new device supports single-port and dual-port operation, which can be achieved by changing the configuration of the pins and is easy to operate. The UPD301 complements Microchip's extensive line of USB hubs, offering solutions for charging, full data, video and power management.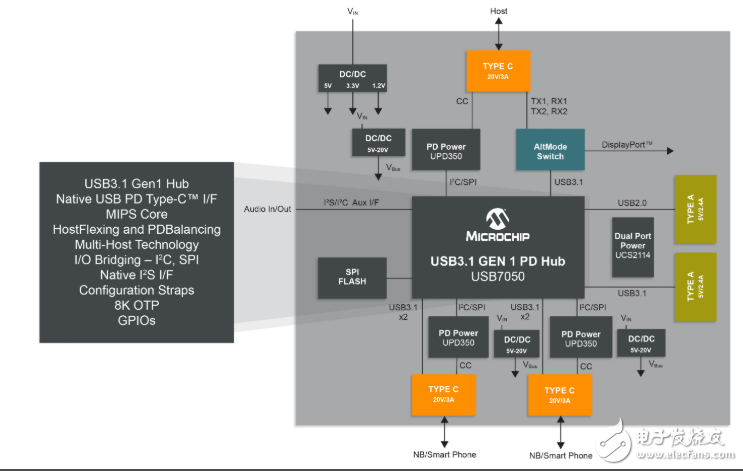 Charles Forni, vice president of Microchip's USB and Network Business Unit, said: "With the accelerated adoption of USB Type-C PD in mobile phones, PCs and portable devices, designers are eager to easily navigate into a variety of novel computing systems and automotive infotainments. The system adds USB Type-C PD functionality from hub-based data management to independent power supply. Microchip has been investing in the development and expansion of its USB Type-C product line to meet the diverse needs of its customers."