Melexis Announces Industry's Smallest Medical Grade FIR Sensor
New medical grade MLX90632 opens up new areas of application
Tysondro, Belgium - Global microelectronics engineering company Melexis announces the industry's smallest medical-grade precision standard FIR temperature sensor, the MLX90632. The sensor is available in a SMD package for use in wearable devices (especially for advanced in-ear devices, so-called audible devices) and for clinical testing where high-accuracy measurements of human body temperature are required.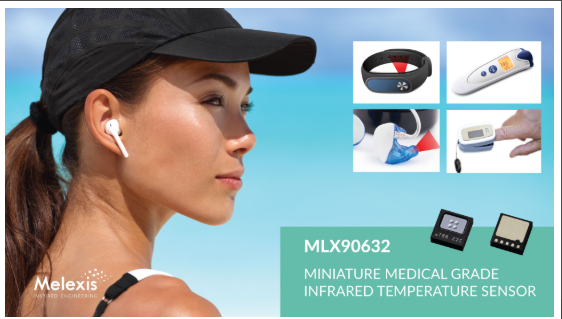 Based on Melexis' leading Far Infrared (FIR) technology, the MLX90632 utilizes the release of thermal radiation from all objects. Small far-infrared sensors are generally sensitive to thermal disturbances, but the MLX90632 can mitigate the effects of thermal disturbances through complex compensation algorithms for higher thermal stability. The new medical grade MLX90632 is optimized for the normal temperature range of the human body and thanks to advanced factory calibration procedures, it achieves medical-grade accuracy of ±0.2°C.
This ultra-small device is a complete solution in a 3mm x 3mm x 1mm QFN package that integrates sensor components, signal processing components, digital interfaces and optics for quick and easy integration into a wide range of space-constrained applications.
The medical grade MLX90632 is small, thermally stable and optimized for body temperature, making it ideal for ultra-small health monitoring devices such as portable diagnostic tools that continuously monitor body temperature. Continuous monitoring of vital signs is a key factor in the early detection of serious health conditions in preventive medicine practice. The sensor is also very suitable for more traditional medical equipment such as a temperature gun or an ear thermometer.
When it comes to the release of new products, Jolex Roels, marketing manager for Melexis temperature sensors, said: "Melexis has successfully sold millions of medical-grade sensor devices. This new device is built on the deep expertise we have accumulated in the process. The MLX90632 will bring disruptive sensing technology to a wide range of applications, helping leading manufacturers' devices stand out in the marketplace and provide users with critical health monitoring capabilities."