MediaTek released Helio P90 chip AI computing power and CPU performance improvement
According to the US technology media GSMArena reported on December 13, in less than two months after the launch of HelioP70, MediaTek launched the HelioP90 with better AI and CPU performance. The SoC chip is equipped with GoogleLens and ARCore support, as well as the second-generation MediaTek APU and AI.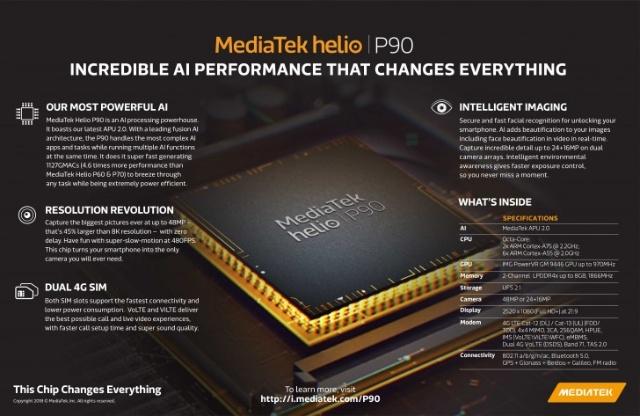 All key power units of the HelioP90 have been improved and will support an oversized 48MP camera or a 24+16MP dual camera. MediaTek said its important improvement is to support 480fps slow motion video and triple ISP. Its upgraded Triple Image Signal Processors (ISPs) can handle 14-bit RAW and 10-bit YUV, and can perform face and scene detection in real time and accurately under low light and motion conditions.
On the GPU side, the HelioP90 no longer uses the public version of Mali, but instead chooses the IMG9XM-HP8GPU and the frequency is up to 970MHz.
In addition, HelioP90 enables augmented reality (AR) and mixed reality (MR) to be further commercialized in the terminal, and provides developers and equipment manufacturers with full use of industry-used frameworks such as TensorFlow, TFLite, Caffe and Caffe2 to provide AI innovative applications in conjunction with HelioP90. The platform.
For connectivity, the HelioP90 also supports 4x4 MIMO and 256QAM, integrates 2x2802.11ac and Bluetooth 5.0, and is compatible with all current Wi-Fi. Production of the chipset has begun, and the first smartphones powered by the HelioP90 are expected to be available in the first quarter of 2019. At the same time, MediaTek will support the promotion of HelioP60 and HelioP70 devices through GoogleLens and ARCore, and the final version is expected to be released before the end of this year.