Maxim introduces the MAX30208 temperature sensor
Maxim Integrated Products, Inc. (NASDAQ: MXIM) announced the MAX30208 temperature sensor and the MAXM86161 heart rate monitor to help designers easily create next-generation wearable medical and fitness products. The MAX30208 reduces temperature measurement power consumption by 50%, and the MAXM86161 reduces optical solution size by 40%. In addition, design engineers use the MAXM86161's highest signal-to-noise ratio (SNR) to improve measurement sensitivity and accuracy.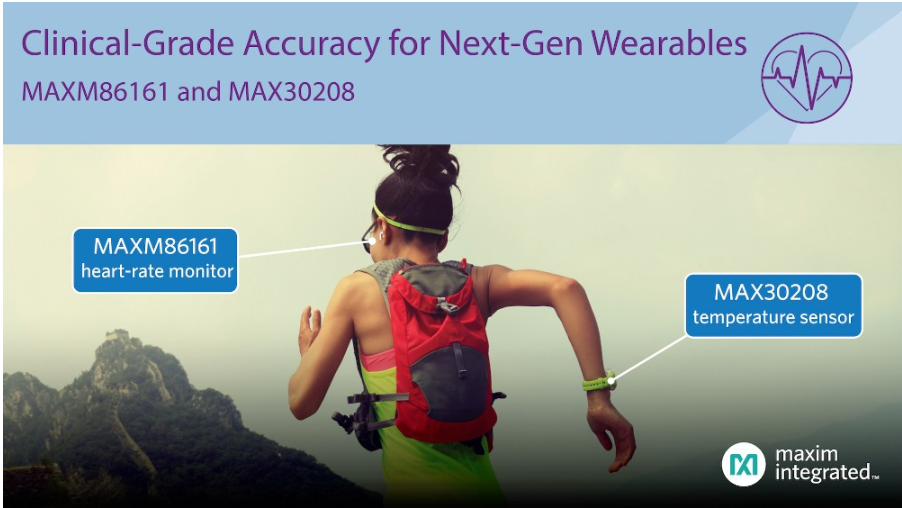 For wearable medical and fitness monitoring devices, consumers need to measure vital signs such as body temperature and heart rate with higher precision, and product designers are often constrained by factors such as small size, battery power, and body-worn design. Maxim's two new medical sensors offer higher measurement accuracy and are ideal for continuously monitoring vital signs such as body temperature, heart rate, and blood oxygen saturation (SpO2).
The MAXM86161 ear-input heart rate and pulse oximetry monitor is the smallest complete solution on the market today, providing high-precision measurements of heart rate and SpO2 for other wearable applications such as earwear. Tailored for ear-in-the-ear applications, the device offers industry-leading small form factor (40% smaller than the nearest competitor) and offers the best SNR (for PPG applications with limited-band signals, the closest competition The product is upgraded by 3dB) and supports a wide range of development applications. The MAXM86161 consumes approximately 35% less power than competing products, effectively extending the battery life of wearable devices. In addition, the device integrates a complete analog front end (AFE), eliminating the need for external AFE chips or optical modules.
The MAX30208 digital temperature sensor provides clinical-grade temperature measurement accuracy (±0.1°C) for fast response to temperature changes. The device also meets the stringent power and size requirements of small, battery-powered applications such as smart watches and medical stickers. The device simplifies battery power and temperature measurement in wearable medical products. Compared to competing products, the device is very easy to use and can be temperature measured from the top of the device without the need for thermal interference. The MAX30208 supports up to four I2C addresses, allowing multiple sensors to be attached to the same IC bus. The MAX30208 can be mounted to a PCB or flexible printed circuit board (FPC).
Main advantage
High precision: The MAX30208 achieves ±0.1°C measurement accuracy over a temperature range of 30°C to 50°C, effectively avoiding self-heating effects, which is a key factor affecting measurement accuracy in competitive products. The MAXM86161 effectively rejects ambient light for higher measurement accuracy with the industry's highest SNR (Nyquist SNR is 89dB; average is 100dB SNR). In addition, Maxim also offers motion compensation algorithms to further improve measurement accuracy.
• Lowest Power: To extend the battery life of wearable devices, the MAXM86161 consumes approximately 35% less power than the nearest competing product, operating at less than 10μA (typically @25sps) and 1.6μA in shutdown mode. Compared to the nearest competitor, the MAX30208 consumes only half the power under typical application conditions (only 67μA in active mode and 135 μA from competitors).
Ultra-small size: The MAXM86161 is available in an OLGA package (2.9mm x 4.3mm x 1.4 mm), which is 40% smaller than the nearest competitor. The MAXM86161 contains three LEDs—red and infrared for SpO2 measurements, green for heart rate measurements, and the MAX30208 in a 10-pin thin LGA package (2mm x 2mm x 0.75mm).
Evaluation
· "The market demand for wearable devices is continuing to rise. The global market is expected to grow from $56.4 billion in 2019 to $78.3 billion in 2022, with a four-year compound annual growth rate (CAGR) of 13%." Chief of IDTechEx Research Analyst James Hayward said: "The main growth drivers include the rapid growth of smart watches and ear-in products, the added value of evolution, and the popularity of specialized wearable devices in the medical field."
Supply and price
The MAXM86161 is priced at $4.41 (1000 sheets, FOB USA) and is available through Maxim's official website and franchisees; the MAXM86161EVSYS# evaluation kit is available for $150.
The MAX30208 is priced at $1.25 (1000 sheets, FOB USA) and is available through Maxim's official website and franchisees; the MAX30208EVSYS# evaluation kit is available for $56.