Maxim Introduces Precision Digital Temperature Sensors and Temperature Regulators with Nonvolatile Memory
Maxim introduces the ±0.5°C precision digital temperature sensor with non-volatile memory (EEPROM) and the temperature regulator DS7505. The integrated non-volatile EEPROM enables the device to run user-configured configurations and temperature-regulated thresholds at power-up. Pin-compatible with the industry-standard LM75 and Maxim's DS75 software, the DS7505 is ideal for high-precision temperature measurement applications such as base stations, telecommunications, networking equipment, and medical systems.
The DS7505 is factory calibrated to ±0.5°C over the entire supply voltage and over a wide temperature range of 0°C to +70°C, with an accuracy of ±2.0° over the entire -55°C to +125°C operating temperature range. C (maximum). The resolution of the thermometer can be set by a user-selectable 9, 10, 11 or 12-digit digital read, with a corresponding temperature increment between 0.5 ° C (9 digits) and 0.0625 ° C (12 digits). To further enhance flexibility, the DS7505's user-configurable configuration options include work or standby status, conversion resolution, temperature regulation mode, output polarity, and fault tolerance. In addition, the non-volatile temperature regulation and configuration registers allow the device to operate as a stand-alone temperature regulator without the need to communicate with the microcontroller.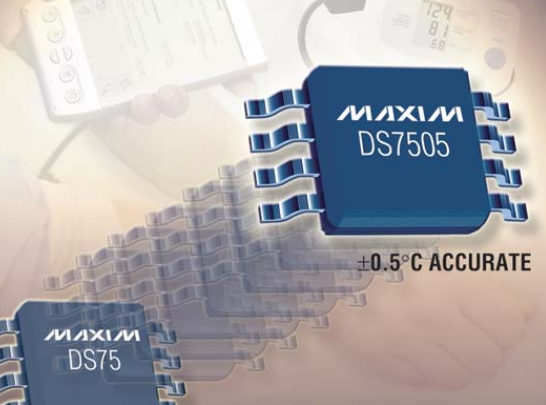 The DS7505 operates from a low supply voltage of 1.7V to 3.7V, allowing direct connection to low voltage power supplies. The device is compatible with the popular LM75/DS75 functions, pins, and software. The DS7505 makes it easy to migrate to low-voltage and/or high-precision designs. Communication with the DS7505 is achieved via a standard 2-wire (I2C) serial interface. The DS7505 is available in a lead-free, 8-pin SO package; it is also available in an 8-pin μSOP (μMAX®) package with an exposed pad, as appropriate. The chip starts at $1.40 (1000 sheets, FOB USA).