Maxim Announces Single-Chip Battery Monitor IC
The MAX17853 can support different battery packs in the same board design, reducing automotive application development cycles by 50%.
Maxim Integrated Products, Inc (NASDAQ: MXIM) announces the MAX17853 battery monitor IC, a single-chip solution for automotive applications that helps them achieve a safer, more productive battery management system with ASIL-D certification. Optimized for large and medium-sized battery packs in electric and hybrid vehicles, the MAX17853 features Maxim's exclusive Flexpack flexible architecture, enabling customers to quickly change module configurations and respond quickly to market demands.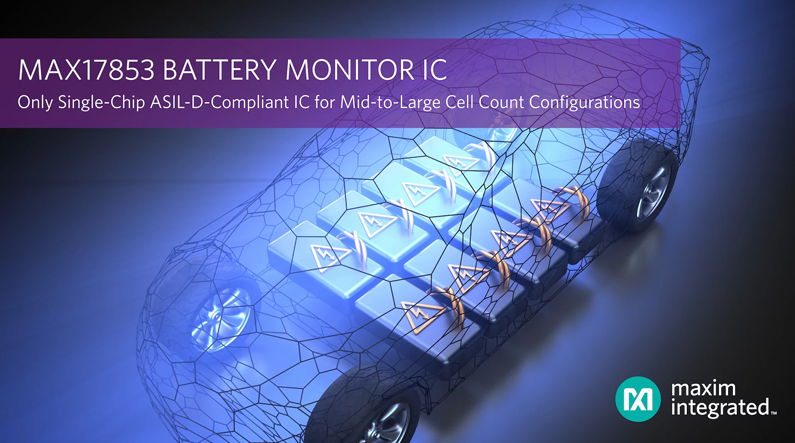 In order to meet safety standards, automotive applications require the addition of redundant components to the system. The MAX17853 is the industry's only single-chip IC that supports both large and medium-sized battery pack configurations and is ASIL-D compliant, enabling customers to create systems with the highest levels of security in terms of voltage, temperature, and communications. The advanced battery equalization system automatically adjusts each battery according to time and voltage, minimizing the risk of battery overcharge and further improving system safety. Customers do not need to add additional components such as redundant comparators to achieve all of these features, further reducing the size of the solution. In addition, compared to competing solutions, the MAX17853 reduces system BOM costs by 35%, helping customers achieve lower-cost BMS solutions.
Flexibility is also a very important factor, and engineers must design and validate boards and bills of materials (BOMs) for different module configurations. The MAX17853 is the industry's only IC that enables multi-channel configurations (8 to 14 cells) on a single board. This saves customers' audit and certification time and shortens the development cycle by 50%. For example, customers can support 8- and 14-block module designs on the same board, halving development time and certification.
Main advantage
Safety: The MAX17853 is the industry's only medium to large battery management solution that meets ASIL-D requirements for temperature, battery voltage, and communication.
Simple design: The Flexpack architecture allows customers to change module configurations without having to re-change board design and circuit certification.
Evaluation
· "With this solution, automotive OEMs do not need to redesign the entire BMS system." Tamer Kira, executive director of Maxim Integrated Automotive, said: "Customers can complete the configuration of multiple battery modules in different models with a single board. "
Supply and price
·Provide you MAX17853 according to your needs
· Provides the MAX17853EVKIT# evaluation kit for $250