Marvell launches OCTEON TX2 product family
Marvell (NASDAQ: MRVL) recently announced the launch of OCTEON® TX2-a new series of network application processors for a variety of wired and wireless network equipment, including switches, routers, security gateways, firewalls, network monitoring, 5G base stations and smart network card control Controller (NIC).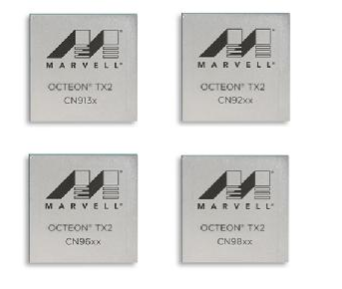 The dramatic increase in data traffic and the continuous upgrade of end-to-end security requirements have led to an increasing demand for integrated hardware accelerators and highly scalable computing platforms to meet the combined requirements of performance, power consumption and TCO. The OCTEON TX2 series has been upgraded to the fifth generation so far. It is the industry's most scalable and widely used network application processor platform. It already has an extensive software ecosystem, including a feature-rich software development kit (SDK) and virtualization. And other support, providing a solution that combines performance and programmability. The OCTEON TX2 product series is 2.5 times faster than the previous generation in terms of performance and scalability, and the network throughput can be expanded to 200Gbps, consolidating Marvell's leading position in the industry.
Marvell's OCTEON TX2 network application processor family is based on the Arm® v8-A architecture, combining up to 36 cores and a variety of configurable and programmable hardware accelerator modules, passing Marvell's proven and highly scalable consistency Interconnect technology. Compared to architectures that process data only on the CPU core, these accelerator modules (including security, packet processing, and traffic management functions) meet stringent performance and power requirements. Compared with Marvell's previous-generation OCTEON processor, the integrated hardware accelerator improves performance by 2.5 times and can support scenarios from 10Gbps to 200Gbps throughput, making it a 5G base station and transmission network infrastructure, security, cloud, and data Ideal for applications such as hubs, corporate networks, and smart cards.
The OCTEON platform is based on a mature and widely deployed software development kit (SDK), supported by a strong software ecosystem consisting of open source and commercial software. The platform includes firmware, Linux operating system and multiple distributions, virtualization, containers, data plane development kit (DPDK), protocol stack, infrastructure management and orchestration (such as OpenStack and Kubernetes), and virtual network element (VNF) support . In addition, Marvell also supports full routing protocols, including support for TCP, SSL, and IPSEC, as well as DPDK support for L2 / L3 forwarding and IPSEC.
"Today's data infrastructure requires faster network throughput and higher end-to-end security on all nodes of the network," said John Sakamoto, vice president of the Marvell Infrastructure Processor Group. "Based on more than a decade of expertise Knowledge, the OCTEON TX2 series consolidates Marvell's performance leadership in supporting high-performance data planes and security applications, with performance up to 2.5 times higher than previous generations. "
"As we enter the 5G era, high-performance data networks need to improve computing performance and efficiency," said Mohamed Awad, vice president of marketing for Arm Infrastructure Division. "OCTEON TX2 series based on Arm ® v8-A architecture supports higher levels of performance To meet the needs of next-generation network and cloud data center applications. "
Marvell's CN91XX, CN92XX, CN96XX, and CN98XX processor family product features include:
§ 4 to 36 cores based on Arm ® v8-A architecture, up to 2.4GHz
§ Rich I / O interfaces, including 25G SerDes-based I / O interfaces, such as 100GbE, 50GbE, 40GbE, 25GbE, 10GbE, 2.5GbE, 1GbE Ethernet interfaces and PCIe Gen4 interfaces supporting master / slave mode
§ Enhanced NITROX V® security coprocessor to accelerate a set of asymmetric and symmetric combined cryptographic operations
§ Powerful network data processing and offload hardware accelerators, including packet reception, flexible packet analysis, flow classification, buffer management, quality of service (QoS), transmission processing, and hierarchical traffic shaping and scheduling
§Innovative and unique load balancing and message scheduling hardware to solve problems of quality of service, packet sequencing and synchronization
Marvell's OCTEON TX2 series products, the CN9130, CN92XX, and CN96XX, are now available, with corresponding reference designs and development kits. Marvell's CN98XX series will begin sampling in the second quarter of 2020.