Fujitsu's industry's highest density 8Mbit ReRAM will be mass-produced
Fujitsu Electronic Components (Shanghai) Co., Ltd. announced today that it has introduced the industry's highest density 8Mbit ReRAM (Note 1) - "MB85AS8MT". This ReRAM mass production product is from Fujitsu and Panasonic Semiconductor Solutions Co. Ltd. (Note 2) Cooperative development will begin in September this year. The MB85AS8MT is a non-volatile memory that uses an SPI interface and is compatible with electrically erasable programmable read only memory (EEPROM) and operates over a wide voltage range of 1.6 to 3.6 volts. One of the features is the extremely low average current, which requires only 0.15 mA to read data at 5 MHz operating frequency, which allows devices that need to be powered by the battery and often read data to achieve the lowest power consumption. The MB85AS8MT is available in a tiny wafer-level package (WL-CSP), making it ideal for battery-powered small wearable devices, including hearing aids, smart watches and smart bracelets.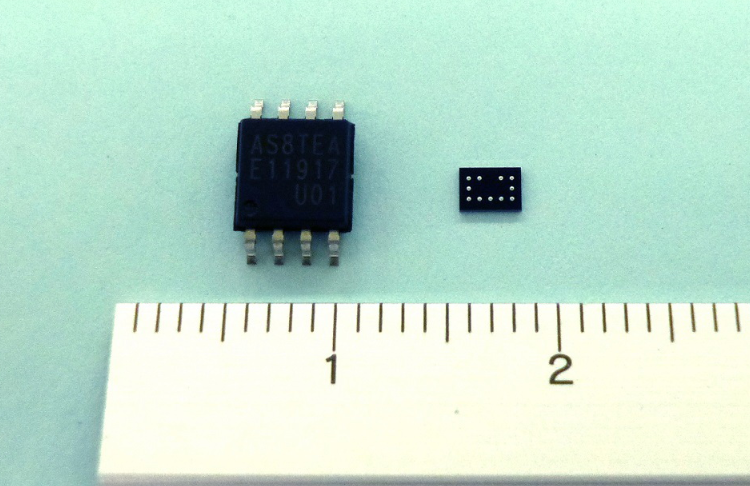 MB85AS8MT is available in a tiny wafer level package (WL-CSP)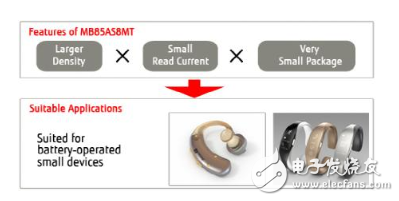 Three characteristics of MB85AS8MT and related applications
Fujitsu Electronics offers a variety of ferroelectric random access memory (FRAM) products (Note 3) that provide higher write endurance and faster write speeds than EEPROM and flash memory. Fujitsu's FRAM products are known for their best non-volatile memory, especially when data is written and protected very frequently to avoid data loss due to sudden power outages. At the same time, however, some customers have proposed memory that requires lower current read operations because their applications require only a small number of writes, but read the data very frequently.
In order to meet this demand, Fujitsu Electronics has developed a new type of non-volatile ReRAM memory "MB85AS8MT", which features "high-density bit access" and "low read current". It is the world's highest density 8Mbit ReRAM mass production product, SPI interface, supports a wide range of voltages from 1.6 to 3.6 volts, and electrical specifications including instructions and timing are compatible with EEPROM products.
The biggest feature of the "MB85AS8MT" is that even with ultra-high density, it can achieve a minimum average read current. For example, at an operating frequency of 5 MHz, the average read current is 0.15 mA, which is only 5% of the current required for high-density EEPROM devices.
Therefore, in products that need to be powered by batteries, such as specific program reading or setting data reading, which requires frequent reading of data, the product is ultra-low reading current characteristic of the memory. Can greatly reduce the power consumption of the battery.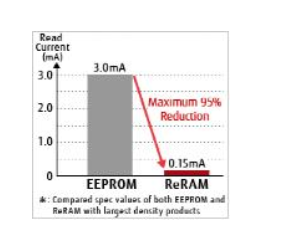 At a working frequency of 5MHz,
The average read current of the MB85AS8MT is only 5% of the high-density EEPROM device.
In addition to the EEPROM-compatible 8-pin small outline package (SOP), the ultra-small 11-pin WL-CSP of 2mm x 3mm is available for use in small wearable devices.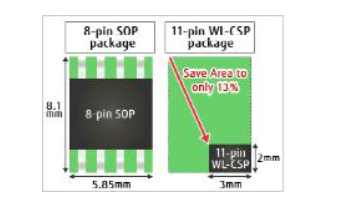 The MB85AS8MT also offers an ultra-small 11-pin WL-CSP of 2mm x 3mm
The high-density memory and low-power MB85AS8MT are available in a very small package size, making them ideal for use in small battery-powered wearable devices such as hearing aids, smart watches and smart bracelets.
Fujitsu Electronics will continue to develop the best memory to support customers' needs for a variety of special applications.
Key specifications
·Part number: MB85AS8MT
Memory density (configuration): 8 Mbit (1M character x 8 bits)
· Interface: Sequence Peripheral Interface (SPI)
·Operating voltage: 1.6V to 3.6V
·Operating frequency: up to 10MHz
Low power consumption: Read operating current 0.15mA (average at 5MHz)
· Write cycle time: 10ms
·Page capacity: 256 bytes
· Guaranteed write cycle: 1 million times
· Guaranteed read cycle: unlimited
· Data retention: 10 years (maximum heat resistance up to 85 ° C)
· Package: 11-pin WL-CSP and 8-pin SOP
Note:
1. Variable Resistive Random Access Memory (ReRAM): A non-volatile memory that records a large resistance change by a voltage pulse on a metal oxide film to record 1 and 0. The process is simplified and consists of a simple metal oxide structure between the two electrodes, which has the advantages of low power consumption and high writing speed.
2. Panasonic Semiconductor SoluTIons Co. Ltd.:
〒 617-8520 1F, Kumamoto-cho, Nagaoka-shi, Kyoto Prefecture, Japan
3. Ferroelectric Random Access Memory (FRAM): FRAM is a memory that uses ferroelectric thin films as capacitors to store data, even in the absence of power. FRAM combines the features of ROM and RAM with the advantages of high-speed write data, low power consumption, and high-speed read and write cycles. Fujitsu has been producing FRAM since 1999, also known as FeRAM.