Dialog introduces the latest mobile processor Sub-PMIC series
This family of power management ICs can reduce solution size by up to 40% and require fewer external components than competitive solutions.
Dialog Semiconductor, Inc. (Deutsche Stock Exchange: DLG), a highly integrated power management, charging, AC/DC power conversion, Wi-Fi and Bluetooth low-power technology provider, today announced a new line of power management products, including four The new sub-PMIC, with the industry's best transient response and digital configurability, is smaller than other similar solutions on the market today.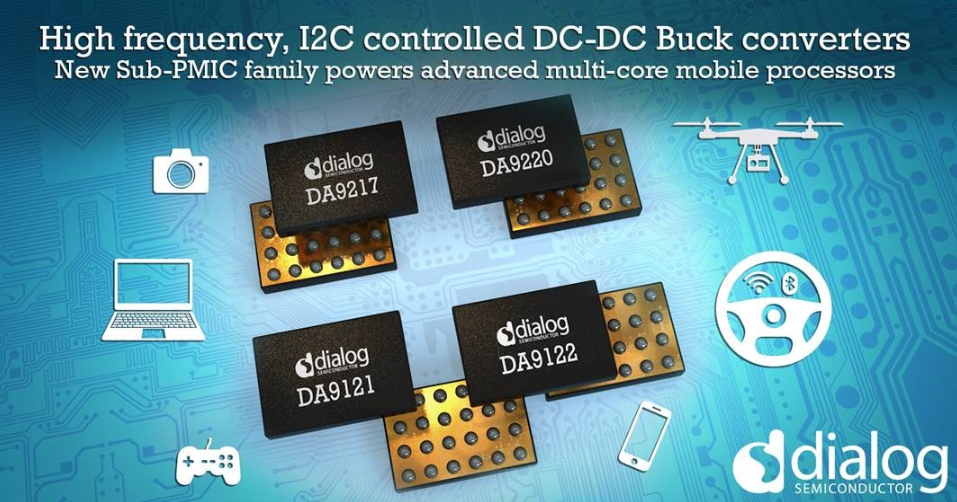 The new family of buck conversion products, including the DA9217, DA9220, DA9121, and DA9122, is Dialog's first sub-PMIC product family with a 4MHz switching frequency that reduces inductor area and height, allowing the use of smaller external components. Ideal for ARM® CortexTM-based multicore applications processors and high-performance SoCs, FPGAs, and GPUs, these devices enable developers to easily place 6 to 10 amp power solutions into the limited board space of next-generation electronics. , including smartphones, tablets, laptops, digital SLR cameras, solid state drives, and more.
While improving efficiency, the new product line never compromises on functionality, greatly simplifying complex system timing design through digital programmability and configurability, seamlessly connecting to system microcontrollers based on system requirements . These devices can support single outputs up to 6 amps / 10 amps or dual outputs of 3 amps / 5 amps per output, making them ideal for the latest 7nm mobile SoCs.
Utilizing Dialog's superior power conversion technology, these devices are further optimized for users requiring high current and maximum efficiency. The sub-PMIC series can be powered from a single-cell Li-Ion battery and supports 3.3V or 5V power inputs. Dynamic voltage control is achieved through the I2C interface to optimize power consumption and performance. In addition, this series offers overvoltage, overcurrent and overtemperature protection.
Scott Brown, vice president of marketing for Advanced Mixed Signals at Dialog Semiconductor, said: "Design engineers face new challenges in power consumption and system size every year, but often miss out on product features. These new devices are being addressed positively. These challenges continue to demonstrate Dialog's leadership in configurable power management solutions."