AnDAPT releases product news
AnDAPT introduces the first PMIC family of integrated DrMOS controllers and multiple buck regulators for unprecedented flexibility.
The "AnD7XXX PMIC Series" offers multiple topologies of power regulators in a single device, from hundreds of mA to over 40A rails.
China, Beijing - October 25, 2019 - Asia's Best Solution Partner - EDSE Technology (TWSE: 3048) today announced the release of the original AnDAPTTM product news. AnDAPTTM announces the launch of four new adaptable power management integrated circuits (Adaptable PMICs) based on AnDAPTTM's breakthrough AmPTM mixed-signal FPGA platform IC with integrated DrMOS controller for up to 40A Power rail. With this breakthrough technology, AnDAPT supports the creation of a large number of off-the-shelf PMICs from disparate topologies covering a wide range of customer applications, relying solely on AnDAPT, a pre-verified single-chip AmP mixed-signal FPGA.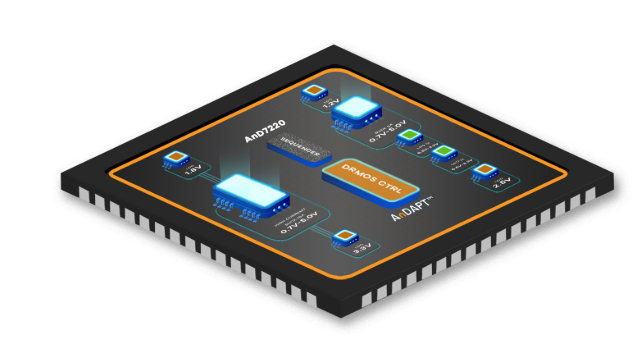 Adaptable PMIC customers can be used directly without programming and still offer best-in-class flexibility and time-to-market, saving the cost and development time of traditional custom PMICs. This technology unlocks a range of very attractive features such as high performance, small package, flexibility and ease of use. More detailed configuration options are available using the AnDAPT Cloud's WebAdapterTM tool.
The AnD7XXX product family is available in a compact 5mm x 5mm package and is highly integrated, providing the best-in-class system-level power solution for chipsets, processors and memories. All products include a single-phase DrMOS controller (40A), multiple buck converters (10A/6A), one high current LDO (1A) or load switch (LDSW), four general purpose LDOs (200mA), and fault protection Power management functions such as timing control.
Adaptable to the AnD7XXX PMIC series including:
• AnD7200: One DrMOS controller, two synchronous buck converters (10A each)
• AnD7220: One DrMOS controller, one synchronous buck converter (10A), one synchronous buck converter (6A), and two high current LDOs (1A)
• AnD7202: One DrMOS controller, one synchronous buck converter (10A), one synchronous buck converter (6A), and two high current (6A each) load switches
• AnD7122: One DrMOS controller, one synchronous buck converter (10A), two high current LDOs (1A), and two high current load switches (6A each)
Zaryab Hamavand, vice president of sales and marketing at AnDAPT, said: "Our new adaptive PMIC series offers unique topologies and unprecedented integration capabilities to meet different customer application needs while utilizing AmP ICs. Now customers can get in PMICs Updated levels of integration and meeting their application needs with exceptional flexibility and performance."
AnDAPT's on-demand build of the PMIC cloud design tool, WebAmP, has two power components, the DrMOS controller and the high-current synchronous regulator. Based on the AmP Hybrid FPGA integrated circuit platform, users do not need any development cost and time (zero NRE cost, no verification required) to develop custom PMICs. Create any required topology combination and fully customized PMIC through WebAmP software.
AnDAPT's unique strengths bring the market's most advanced power management solutions with a comprehensive library of power components and topologies. The portfolio includes buck, boost, buck-boost converters, load switches, LDOs, gate drivers, controllers, timing controllers and online monitoring. Topologies such as single-phase controllers and specific application scenarios are also available.
Zaryab added: "By responding to the market for discrete power devices, standard PMIC devices and custom PMIC devices, AnDAPT is expanding its total available market size to more than $5 billion. This can be done in a monolithic integrated circuit. A revolutionary integrated circuit that combines the flexibility of existing analog technology with the power of digitally programmable logic, which is revolutionizing the entire power device ecosystem."